Ceiling fans are common cooling devices used in homes, workplaces and restaurants. They have the ability to cool a large area, with less power consumption. Ceiling fans are also decorative pieces of furniture that help increase the aesthetics of the room in addition to the cooling function as standard fans. But have you ever questioned why your room is not cool or why the cooling capacity of the fan is not equal to that of other devices. The reason is always because you choose a ceiling fan that is not suitable for the space in the room, see the article below to know how to choose ceiling fan.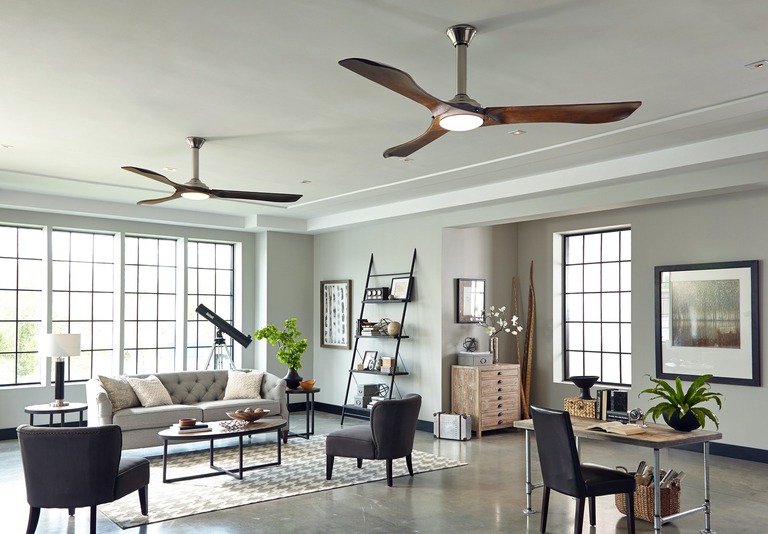 Is a ceiling fan necessary?
Ceiling fans have many notable advantages over cooling devices such as heating and air conditioning systems in this respect because their wind is the same wind and is dispersed throughout the room helping to distribute fresh air. When using a desk fan or air conditioner. The electricity usage of a ceiling fan is significantly lower than that of an air conditioner, so using one can significantly reduce your home's electricity costs.
With wingspan typically between one and two meters, ceiling fan have a sizable cooling surface. When installed in the middle of a room, they can cool the entire 10 m2 space. Your family might not need to use as many fan devices in your space thanks to the advantages listed above.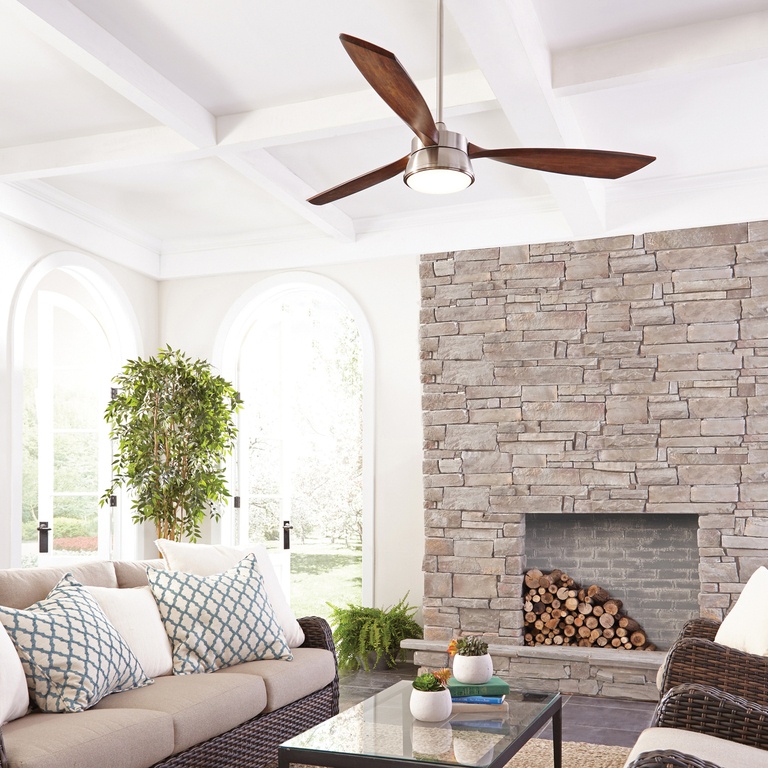 Factors to consider when selecting the ideal ceiling fan for your space
Installing a ceiling fan is a good idea for closed, square spaces because it helps you ventilate the space and save space. This can be placed in the center of the room and used for cooling as well as dissipating space. Larger spaces can fit two ceiling fans for better airflow.
The room's interior decoration style must be compatible with the ceiling fan design. When decorating live in small rooms or other spaces, stylish ceiling fans of lights are an excellent option. To evoke a warm and lovely atmosphere, use fan lights.
On the other hand, a conventional 4- or 5-blade ceiling fan is more suitable for a room with a simple design, such as a living room or bedroom. Because they do not pay attention to sophisticated details when used, they also create a more comfortable & relaxing space.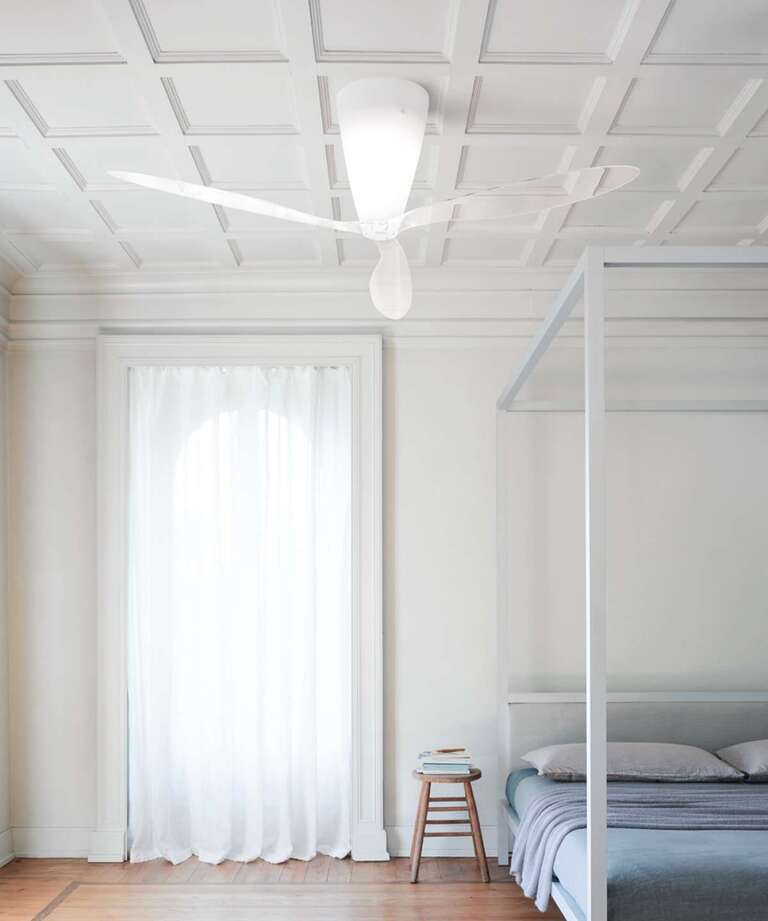 Room size
There are several methods for determining the type of ceiling fan that is most appropriate, completely comparing the size of a fan blade to determine the fan's cooling capacity when used. A fan of about 80 cm will suffice for a space of 6 m2 in a room with a small area, for example a bedroom with a specific closet or just a small kitchen. In a similar way, you can measure the area of a room before installing a ceiling fan to determine the fan's best size. To be safe to use, you must measure the distance from the floor to the ceiling and make sure that the distance from the floor to the propeller is at least 2.2 meters.
Ceiling fan motor
When choosing a ceiling fan motor, cooling capacity, power usage, and product durability are the most important considerations. the power of an engine. When choosing to buy a ceiling fan, you should pay attention to choose the type of motor to buy because the most advanced models have low power requirements of about 20 to 40W and still provide enough air flow and save up to 70% of electricity compared to traditional engines.
Colors and materials
Today, you can choose the type of ceiling fan according to the design of the room and its variety of colors and materials. Fans can be made of luxurious wood, mica or metal that you choose the most suitable in terms of style, color and material.
Both the style and the material of the ceiling fan are crucial. The ceiling fan styling must be in perfect harmony with the room's dimensions and decor to convey the owner's desired beautiful feeling & aesthetic taste. For instance, the popular style of today's ceiling fan models frequently includes extra lighting to add novelty and guarantee high aesthetic standards for the home.
Additionally, when selecting a ceiling fan, you must also pay much attention to the color, particularly the neutral colors like white, beige, black, blue,... and also the absolutely stellar colors to show your personal favorite. more opulent than metallic gold.
Number of propellers
Ceiling fans today have a common number of blades, which are 3-blade, 4-blade or 5-blade. Each line of ceiling fans has outstanding benefits and is ideal for each room space.
3-blade ceiling fans are often used in living rooms and have a wide wingspan. With a quiet, silent rotating blade, the above fan has higher air friction than any other fan on the market. With a typical wingspan of 130 to 150 cm and 3 to 5 wind levels, it's the oldest type of fan. The blades of the fan rotate smoothly and quietly, and are light in weight overall. You can buy a three-blade ceiling fan at a reasonable price that will appeal to most customers.
With 4 - 5 blade ceiling fans
This fan model just recently made an appearance with a more attractive and sophisticated design. The product has a variety of wind speeds and a remote attachment for remote control. These two fan models are pricier than just the 3-blade ceiling fan and quite heavy in weight.
Product quality
The quality goes hand in hand with the price. An inexpensive, low-quality fan will vibrate excessively and move less air. Blade design and rotation are just as important as speed in regulating airflow. High quality fans have more powerful motors that can spin the fan more often. Manufacturers must reduce the rotation to avoid burning the engine because the car cannot withstand the impact force.
Warranty
To be more assured about the quality and features of the product, you should check & ask for the warranty before choosing to buy a cheap ceiling fan. In addition, you should only buy fans of famous brands, reputable for genuine quality and regularly repaired. You absolutely avoid buying fans in places of unknown origin because this is likely to happen. Poor quality products, when used will quickly degrade.
Place Your Fan Properly
Fans with blade spans between 60 and 80 inches are available for extremely large rooms with ceilings. In order to meet the needs of a large space, large-sized fans must be both functional and of a certain scale. Instead of actually lowering room temperatures, ceiling fans cool spaces by generating a breeze. Place them where you can use them most likely. Good locations are over the bed, or above the kitchen or family room furniture.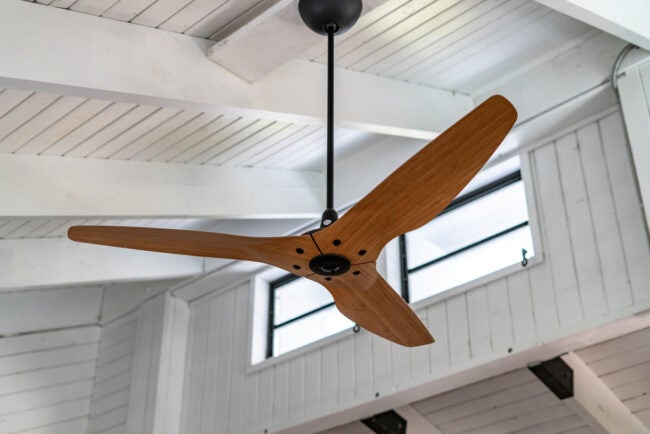 Ceiling fan remote control
You want to be able to operate the fan with a classic device, remote control, or zipper. Your options may be limited. The fan characteristics you select will determine the operating mode. While options vary, there's undeniably everything that needs to be said about the ease with which the remote allows you to easily adjust the rotation speed of your ceiling fan or fixed lighting settings.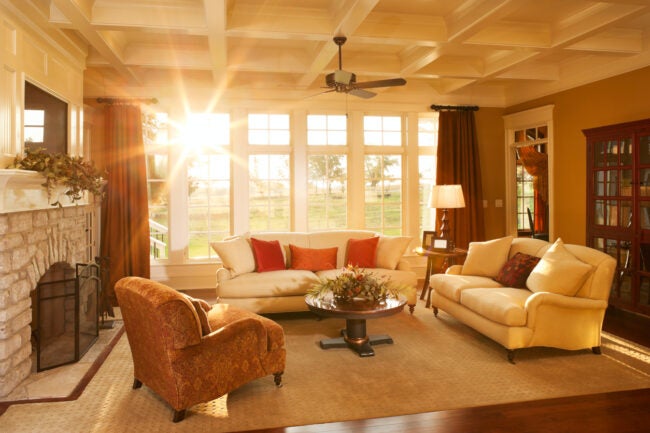 Conclusion
Most of us do not do enough research before going to the store to decide whether to buy a good ceiling fan or not. A set of curtains, a set of wooden tables or a ceiling fan are easier decisions for your home. In terms of quality and design, there are many options available. You are always confused by this and it makes decisions more difficult. However, from a young age, traditional fans are no longer strange to any family. Therefore, we need to consider more criteria when choosing the ideal ceiling fan. To make it easier for you to choose whether to invest your money in a fan that is really worth it.