Outdoor activities are no doubt an excellent way to reduce your daily stress as well as connect people. Several outdoor events such as pool parties or intimate gatherings occur every day, especially among young adolescents. Other types of outdoor activities can be creating home movies or games. Whatever leisure activities you are up to, purchasing an outdoor speaker may not be a bad idea.
How do I purchase the perfect outdoor speaker?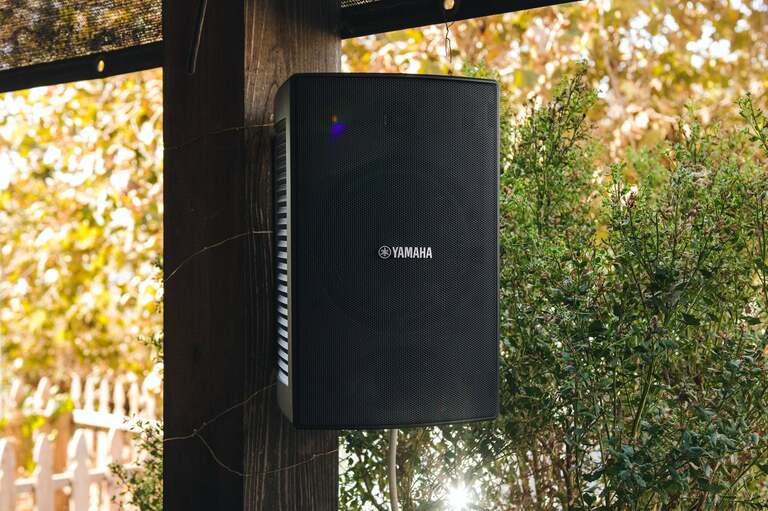 Purchasing an outdoor speaker is not as tricky as shoppers assume it. You may encounter several hardships if you haven't determined some essential factors. They can be the kind of sound or your sound system. It is advisable to clear out a process and follow it when adding a speaker to your outdoor space. The following sections will inform you of a detailed process, guidance to purchase a suitable outdoor speaker, and a few tips to lengthen the lifespan of your speaker.
1. Determining your speaker's position and budget
Where will you place your speaker?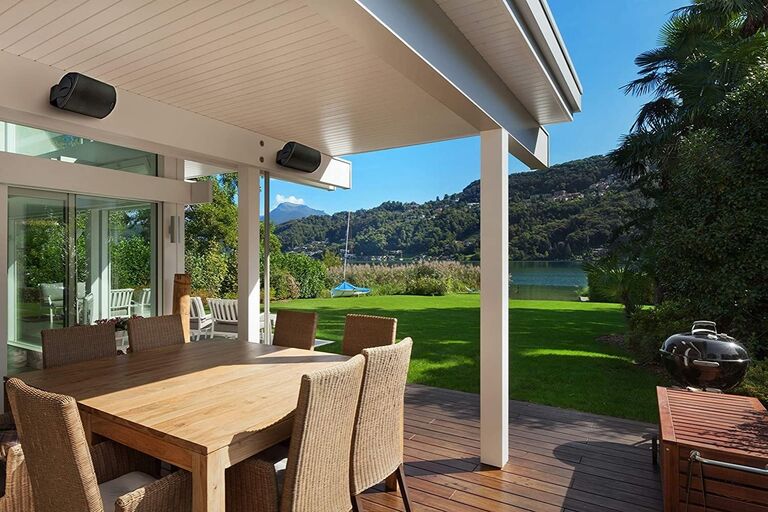 The first section to decide is your speaker's place. This highly depends on your intention and purpose. There are numerous types of outdoor speakers, which are mentioned in the upcoming parts. In these lines, we will mainly discuss the area where you want your speaker to be.
If you wish to place your speaker in a large area, you are likely to purchase an expensive speaker with incredible sound levels. It is only then your speaker can guarantee high-quality performances. In another case, your living space is on an average level, and you are using the outdoor speaker on your balcony. This would lead to an expense decrease because of your usage demands.
For small areas, we would recommend a 40W speaker. It will be a waste to spend thousands on a speaker for space such as a balcony. For larger spaces, a speaker of 70 to 100W will be ideal.
Who are you using this speaker for?
Home or workplace is the question you have to answer before buying a speaker. If for home use, you should take a look at those with weatherproof features. A home-use speaker will differ dramatically in sound requirements, compared to workplaces or restaurants.
For work purposes, the waterproof feature is usually not required. However, the sound quality needs great attention. Some background music would be much different from that for a professional presentation or in a classy restaurant.
How much can you spend on this speaker?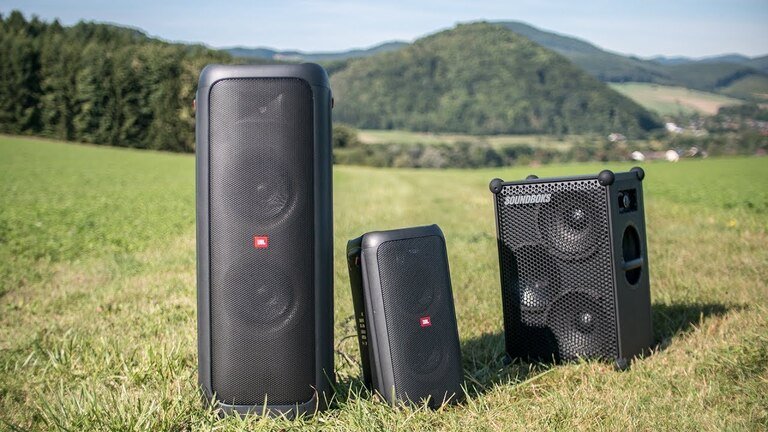 The expense is chiefly determined through your usage demands. The cost rates vary from low to high, hence purchasing a speaker would not be an issue for anyone. If checking the options on e-commerce websites such as Amazon or Depot, you will encounter several types of speakers with distinguished costs.
The lowest expense can be under 100 dollars, and the highest one can reach 600 dollars or more. Also, many providers have been updating impressive performers with user-friendly prices. Some of the trustworthy manufacturers and distributors are JBL, Anker, Sony, and Bose Soundlink Flex.
2. Differentiating types of outdoor speakers
Comparing the wired and wireless speakers
Every speaker has its pros and cons, whether it is wired or wireless. The wired speakers offer you a higher control level and longer playtime, compared to the wireless ones. They are also easier to use. However, wired speakers have drawbacks. When choosing a wired speaker, in most cases, you must purchase other necessary accessories and deal with annoyance from the wires. Many shoppers prefer wireless speakers due to these disadvantages.
Wireless speakers, on the other hand, have eliminated the wiring trouble. Moreover, they appear to be more lightweight and portable. However, the term wireless does not mean wireless exactly. Your speaker would come with a charger, but this is not remarkable. For connection, the wireless speakers have 2 ways, which are Wifi and Bluetooth. The only downside is that if your outdoor speaker connects through wifi, you must maintain a stable signal to guarantee the best sound performance.
Types of outdoor speakers you can refer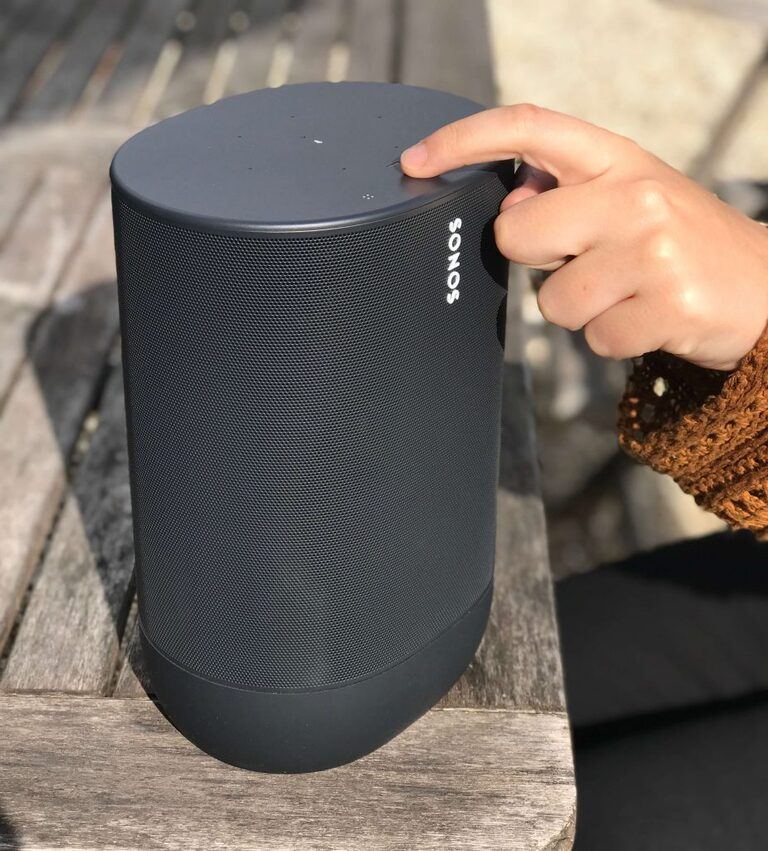 Traditional speakers: you can easily catch sight of traditional outdoor speakers when searching online. They have been popular for a long while, and are a safe choice. Traditional speakers often feature a rust-proof grill or basket and a wire-free connection. They are perfect for family leisure time or intimate gatherings.
Wall-mounted speakers: wall-mounted speakers are another option to consider. They are usually available in both white and black. Besides, providers often sold this item in pairs. However, you can get this speaker in a single item if needed. The wall-mounted produces more bass since they are designed with greater enclosures and woofers.
Landscape speakers: landscape speakers vary in shape and color. They are designed to blend in well with the surrounding atmosphere. Some are in the shape of a mushroom, bench, or rock. They are often placed on the ground. The design is the factor that differentiates them from other types of outdoor speakers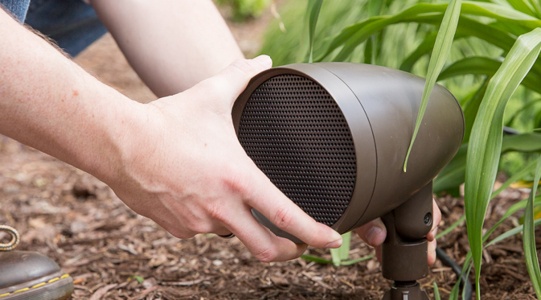 Outdoor architectural speakers: this fourth type of outdoor speaker is like a work of art. They look exactly like patio architects rather than a speaker. This one is suitable for those who want to add more decoration to their outdoor space, including swimming pools, gardens, or backyards. The outdoor architectural speakers are favorable to many consumers for their outstanding appearance.
Subwoofers: outdoor subwoofers are for additional bass. Manufacturers divide this type into two main branches: passive and active. The passive speakers are more complex to adjust and use than the active ones. It is because they require sound knowledge. Nevertheless, the passive speakers are evaluated to be more effective than the active ones if used correctly.
Line array speakers: this type normally appears in concert arenas. They are composed of identical speakers mounted in a light curve. This speaker type allows a distance of 300 feet. In such a long distance, the user can still enjoy the music played at the same level.
3. Some tips to lengthen the lifespan of your outdoor speaker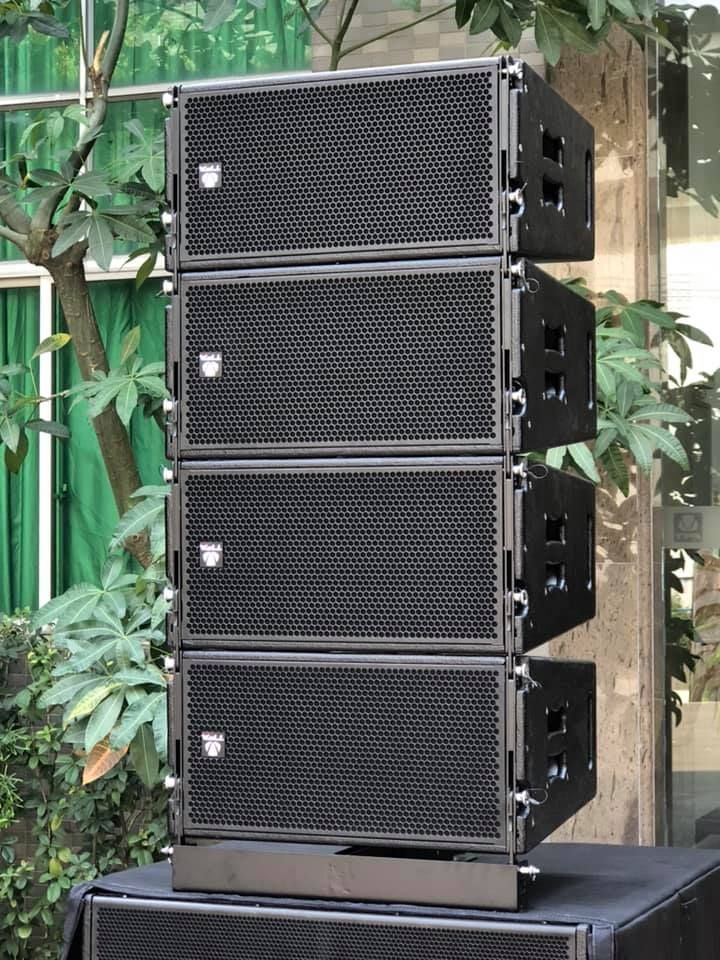 The last part we inform you in this article is how to preserve your speaker in general. Here are three simple ways to lengthen the speaker's lifespan.
Clear all the dust: dust is the number one reason for decreasing your speaker's performance. For dust clearance, you can refer to several products online which specialize in this. Or else, using a dry cloth and canister at home is enough.
Avoid the heat: when placing speakers around the house or office, you should put them anywhere too near a heat source, especially sun exposure. Direct exposure would lead to electromagnetic damage.
Pay attention to ventilation: Airflow is the factor guaranteeing your speaker would cool down after playing, as well as maintain the standard temperature level. Tight spaces and against the wall are not advisable for placing speakers. Put your speaker in an open space or at least, a few inches from the wall. That can help with heat and vibration control.
Conclusion
A perfect speaker for you must adapt to all the standards mentioned in the previous parts. It should be compatible with your living space and affordability. The types of speakers have been discussed. If you are considering a speaker for home use, a landscape or traditional speaker is an option.
If you intend to use outdoor speakers for other purposes, including events, a line array speaker is more suitable. A subwoofer is great for restaurants and workplaces. These are our recommendations. A small note to remember for home users is that you should not disturb your neighbors during usage. Hence, pay attention to your sound levels and have suitable adjustments if necessary.