Today, a high-definition multimedia interface (HDMI) cable is a must-have in any home, especially for entertainment. If you want to enjoy high-definition (HD) visuals and sound, you need an HDMI cable. Televisions, computer monitors, video projectors, gaming consoles, DVD players, and laptops are just a few examples of gadgets that might have HDMI connections.
Generally, you only need a cable to link two devices to transfer audio and video. Although most brands typically have gold-plated HDMI connectors, most come in silver. Other models use braided nylon cables for ease, especially in cramped locations, while the standard cable comprises a flexible plastic that encases the core wiring.
If you recently purchased a device that requires an HDMI cable or locking HDMI cable extensions, there are considerations to keep in mind. One is to look for cables with the right connector for your device. The length of the cable is also something to consider. The length should be just right, not too long or too short, so you can move the components enough to ensure easy connection accessibility. Don't forget to factor in whether the cable supports the capabilities of the devices you have.
Even if you already have an HDMI cable connected to your devices, you should know everything about the cable, especially the best applications for the cable in your home.
What Is HDMI?
The high-definition multimedia interface (HDMI) cable is a well-known cable that connects HD-compatible equipment. The cable has a wide range of applications in both residential and commercial audio-visual (AV) systems.
The cable was first introduced in 2002 and quickly became the mainstream technology for ultra-high-definition monitors. HDMI may share Internet connectivity in addition to AV applications.
The most recent is HDMI Specification 2.1, which includes a few improvements, such as the ability to support a superior resolution and refresh rate, including top-notch resolutions up to 10K.
You should invest in an HDMI cable when you have devices that support the standard. They should have an HDMI interface or port that's used to connect to them with the help of an HDMI cable. Although there are many different HDMI cables on the market, they all serve the same purpose: they transfer video and audio signals from one device to another. One example is connecting a laptop to another device, such as a TV.
Compatibility Of HDMI Cables
One of the appealing features of an HDMI cable is its convenience. Even if you're not proficient with technology, you can straightforwardly connect an HDMI cable to any device you want to use. However, it may be best to make an effort to know how to choose the appropriate cable for various applications. If you're going to buy one soon, you should consider transfer speed, connector ends, and compatibility.
Some of the media devices that you may be able to connect with an HDMI cable include:
Cable or satellite boxes

Gaming consoles

Televisions

Monitors for computers

Desktop and laptop computers

Video projectors

Blu-ray or DVD players

Smartphones

Camcorders and digital cameras

Receivers for home theater systems
Over the years, HDMI technology has remained the ideal choice when providing visual, audio, and data connectivity. HDMI is widely used in a variety of industries, including healthcare, industrial automation, military, and aerospace, to name a few.
What Are The HDMI Cable And Connector Types?
Various types of HDMI cables have different applications depending on the bandwidth or signal transfer speed and the HDMI version the cables are associated with. The available HDMI cable types on the market include standard HDMI, standard automotive HDMI, high-speed HDMI, high-speed automotive HDMI, premium high-speed HDMI, ultra-high-speed HDMI, and HDMI cables with Ethernet built-in.
There are also diverse types of HDMI cable connector types that you can find on the market. The right one will depend on the device you connect to. There are seven types of connectors available: Type A (regular), Type B, Type C (Mini), Type D (Micro), Type E (automotive), Category 1, and Category 2. Fortunately, most HDMI cables are easily interchangeable using an HDMI adapter or converter.
The Best HDMI Cable Applications For Your Home
Once you hear about HDMI cables, entertainment is usually the first thing that comes to mind. However, it's only one of the uses of the cable. The HDMI cable's versatility makes it an excellent choice for various applications.
1. Putting A Home Theater System Together
When you set up a home theater system to improve your home entertainment, invest in an HDMI cable to ensure the best AV quality.
A home theater system will also require a decent speed of data transfer. With this in mind, an HDMI cable is ideal, especially if you subscribe to several popular streaming services.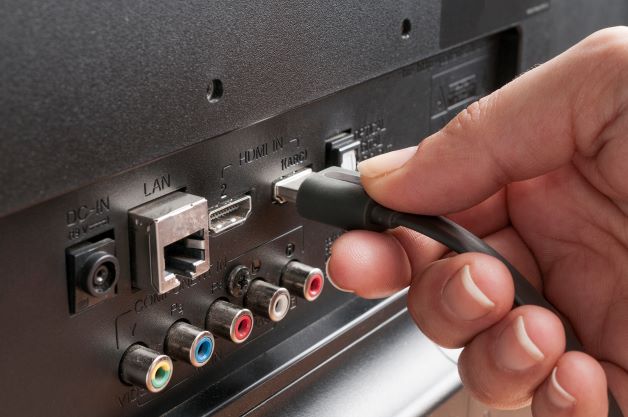 A home theater isn't complete without a reliable sound bar that produces superior sound. An HDMI cable is useful for connecting your soundbar to the TV for high-quality audio.
Smart TVs are evolving into slimmer models with HD displays, giving way to mediocre sound quality. Due to this, soundbars are gaining popularity as a viable way to enjoy good-quality audio from your Smart TV. Generally, a soundbar is powered independently and connects to your TV via the HDMI interface using an HDMI cable.
2. Connecting A Laptop To Television For Entertainment Purposes
One of the popular HDMI cable applications is watching videos from a laptop on a TV. You can utilize the cable to connect your regular or Smart TV to your laptop, as long as it's equipped with an HDMI port.
Watching a movie on a larger screen on TV will be more visually appealing, and more people will be able to enjoy the show. If you have online streaming services on your laptop, you can share it with everyone by using an HDMI cable to connect it to the TV in the living room.
3. Installing A Security System
If you want to upgrade the security system in your home, an HDMI cable will play an important role. Technological advancements have resulted in significant improvements in the overall quality of home security.
As more homeowners recognize the value of having a security system, consider installing one if you want to ensure the safety of your home and family at all times.
In previous years, security footage was typically low resolution, making it untrustworthy in most cases. The resolution on the latest home security systems is superior, often accompanied by an HDMI output option.
4. Creating A Home Office Or Workspace
Aside from the speed of data transfer that an HDMI cable provides, particularly for those who enjoy streaming services, it's also a good choice if you intend to set up a home office. If you're a remote worker, you should set up your home office to be as efficient as your workplace by utilizing HDMI technology.
Depending on the home office you're planning to set up, you can also use an HDMI cable to link your laptop or desktop computer to a second monitor. Although most people can get by with one monitor, other professionals, such as those involved in video editing or creative tasks, will need a second monitor. Having one will greatly improve productivity because it eliminates the need to minimize and maximize windows while working constantly.
Final Thoughts
No one can beat the convenience HDMI cables can provide when it comes to audio, visual, and data connectivity. Aside from the various applications in a residential setting, an HDMI cable also plays an important role in other industries. Knowing everything about a seemingly indispensable device, including its best applications, will ensure you have the appropriate one, especially if you have multiple devices in your home.