Moss growing on a concrete surface is a very typical concern for gardeners. Though the problem is widely acknowledged, it is difficult to prevent because gardens have the best condition for moss to germinate.
Gardens are places where we grow trees and plants, so they always have shade and moisture that stimulate the sprouting of moss. Some people do not find moss growing on concrete annoying, but some do as moss does not only make your surface look unaesthetic but also make it slippery to walk on.
If you are one of those who hate seeing moss at your place, we are here to help you deal with that.
There are two ways to remove moss from a concrete surface: one with chemicals and one without chemicals. Both will require you to spend some efforts to deep clean the moss out of concrete.
1. By Chemicals
Before using chemicals, you should pour boiling water all over the surface affected by moss. Scrub with a stiff brush and wash away debris with a hose. Hot water is the easiest way to remove moss, but it is not as effective as chemicals. So we recommend you to do this step as preparation before continuing with any chemical type of your choice. There is a variety of chemicals to get rid of moss for you to select.
1.1. Baking Soda
Baking soda is always useful at cleaning stuff. And you can easily find it in your household. To remove moss, sprinkle baking soda over the impacted surface. Leave it there for at least 24 hours. After that, you can sweep the baking soda power up and dispose of it.
Pros
Affordable
Not harmful for your health
Can neutralize your soil if accidentally sprinkle baking soda on it
Cons
Can discolor your surface
Unable to prevent the moss from growing on your surface
1.2. Bleach
There is a special form of bleach for garden use that can remove moss on concrete or any other surfaces. You can purchase this product from garden supply stores. In case you already have household bleach, you can also it without having to buy another type. To remove moss with bleach, you will have to create a mixture with half bleach and half water. Put the solution in a sprayer. Spray it on the surface and leave it for 30 seconds. Scrub the surface, then use a hose to rinse the dirt off.
If you have not owned any sprayer yet, we suggest you take a look at this sprayer, It is specifically made to keep bleach and chemicals inside for garden use, which may help to fasten your cleaning process. Check more for Best Pest Control Sprayers
Pros
Effective in removing moss
Can keep moss from growing back at most a year
Cons
Can be dangerous so make sure you wear protection gear
Can discolor your surface
1.3. Ammonium Sulfamate
You can find ammonium sulfamate in most garden supply stores. You can use ammonium sulfamate immediately as it is a water-based solution. When using any chemical product, the most important thing you need to do is to follow the manufacture's guidelines. Pour the chemical solution to the sprayer. Apply it on the surface covered with moss. And make sure to avoid the area with plants since chemicals can kill them. If possible, you should remove moss using this chemical solution on a no-wind day to limit its unwanted effect on other plants in your garden.
Pros
Effective in removing moss
Can prevent moss from growing back for several weeks
Cons
Can cause irritation to your skin, eyes, and lungs
Can be harmful to nearby plants
1.4. Specialized moss cleaner
If using chemicals is too complicated for you, we think you may want to try the cleaner that is particularly made for removing moss. You can purchase this product from every garden supply store or Amazon. We also did a little research on Amazon to find a good product for you. So here we have the best seller cleaner that is from the brand Wet & Forget. The cleaner is pretty simple to use. It comes with the hose end. And you will use that to hook the cleaner bottle to the hose. Then spray the cleaning solution all over the surface covered with moss. And lastly, wait for the moss to disappear.
Pros
Quick and easy to apply
Can spray up to 30 feet for hard-to-reach areas
Cons
May take 2-3 weeks for the moss to completely disappear
Quite pricey for the amount of product you receive
2. Without Chemicals
2.1. Using a pressure washer
The pressure washer can do an amazing job in removing moss out of concrete as it pumps out 2,000 to 2,800 pounds per square inch at the rate of 2 to 4 gallons a minute. The instruction is simple. First, you need to pour the solution to the pressure water. Using just water should be good to remove moss. But if you want to clean your surface even better, you can add a little bit of soap and mix it with water. Then you can set the pressure water to any nozzle tip except 0. All you need to do next is spraying the tool all over the concrete.
There is a wide range of pressure washers with different strengths for you to choose from. We already did a review of these pressure washers on our site. Check it out for 5 Most Powerful Pressure Washers of 2023.
Pros
Environmentally friendly if we only use water.

No safety tool needed
Cons
Pressure washers are costly

They can bruise or remove skin
2.2. Using household tools
Step 1:
Prepare the tools used to remove moss
A flat shovel
A knife
A wire brush
A broom
A hose
Step 2:
Pour some water onto the surface covered with moss the loosen the moss up. Take a flat shovel and use it to remove the thicker layer of moss first. For the thinner layer, you may want to switch to a knife to get rid of it since it sticks more tightly to the concrete.
Step 3:
Now that you already pluck all the layers of moss, use a wire brush to go over the whole surface to get rid of the remaining dirt that you have not been able to remove. Repeat the process until there is no dirt stuck on the concrete.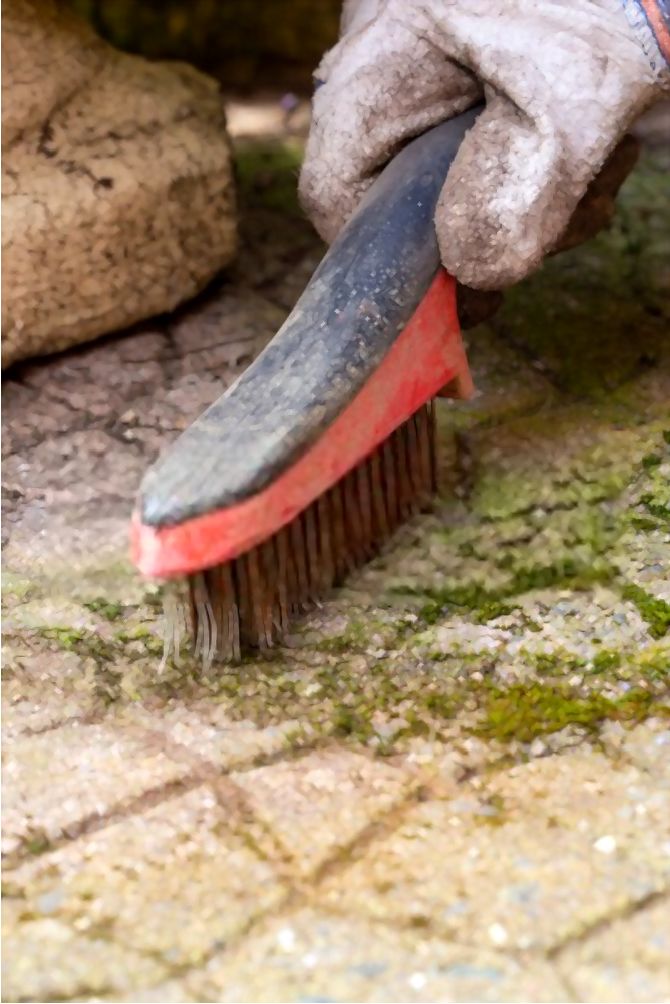 Step 4:
The last thing you need to do is to clean the dirt off the ground. You can use a broom to sweep the dirt away. Then if the surface is not completely clean yet, you can use a dose to continue washing it.
Pros
Environmentally friendly process
You probably have these tools in your household, so no further purchase needed
Cons
You will have to spend longer time cleaning
Conclusion
It absolutely depends on you to choose which method you want to try, but we do want to recommend you to aim for the non-chemical approach first. If you wish to use chemicals, make sure you are wearing protective gear while cleaning since the chemical can be dangerous to your well-being. Also, bear in mind that cleaning the moss does not guarantee that the moss will not grow back. So to prevent the return of moss, try to expose your concrete surface to the sun as much as possible. Sacrifice some of your tree leaves reduce the amount of shade and moisture on the concrete.