Having a small closet can be quite annoying sometimes, especially for those who love garment shopping. So, how are you going to cope with the situation? The answer is cutting down on unnecessary items and learning how to organize clothes in a small closet better. That would be so helpful! But there is one question: how to do this.
The key lies right below. Here is how to organize clothes in a small closet effectively and quickly. Check it out now!
1. Learning More About Folding Techniques
Learning the new folding techniques can be a game changer when you learn how to organize clothes in a small closet more effectively. The traditional folding techniques take more time and space than the new ones that are now revealed all over the Internet.
Try to fold your t-shirt or pants into half, then scroll them tightly. That's one folding technique that can help to save some space. There are numerous other folding skills you would discover with just one or two minutes of surfing the web.
2. Adding Wall/ Side Hooks to Your Closet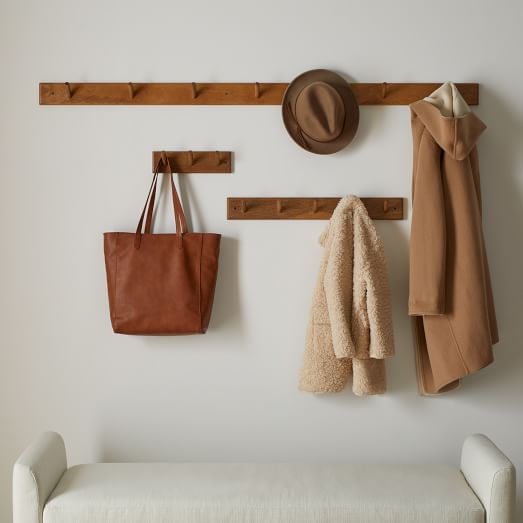 Why waste the space you have on the closet door or wall? Try to take advantage of them and increase the storage space inside your closet by adding some wall or side hooks. These hooks should be of high quality for the best lifespan. They will also prevent some unwanted collapse or falling during your usage. The best hooks we recommend are from metal, probably stainless steel is our target here!
3. Installing Several Drawer Organizers for Clothes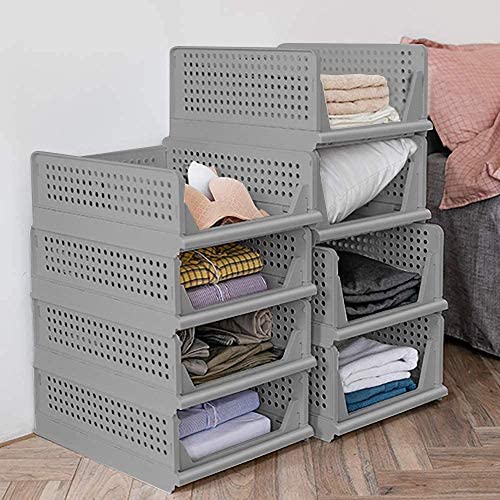 If your closet now has no drawer organizers, it is time you installed one to get so much more room! The drawer organizers are excellent supporting tools not only for clothes storage and organization but also for many other useful purposes.
You can ask for professional service to build an additional drawer organizer for your closet. In case you are a handy DIY lover, we don't see a reason stopping you from building one on your own and customizing the organizer just like what you ever wish for!
4. Using Over-The-Door Clothes Organizers
Organizers can be anywhere from inside the closet to the door. Your door closet has so much potential for clothes storage and organization, don't miss a chance. Having mounting organizers is quite ideal, should you want to increase the space and make use of every inch left.
For those who are first to hear the term over-the-door clothes organizers, here is what it looks like. You can find them easily on any online marketplace or eCommerce website.
5. Reallocating The Hanging Space for Clothes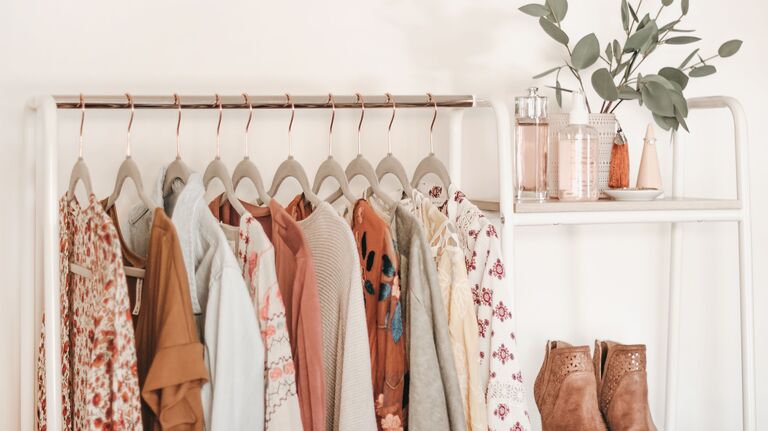 One of the biggest reasons why your closet is not enough for the clothes you are having is because of the unsuitable allocation of hanging space. Take an overall check through every piece of garment you have, then classify them into groups, including which one to hang and which to fold. Right allocation for hanging space is more effective than you can expect!
6. Adding A Clothing Rack In Some Corner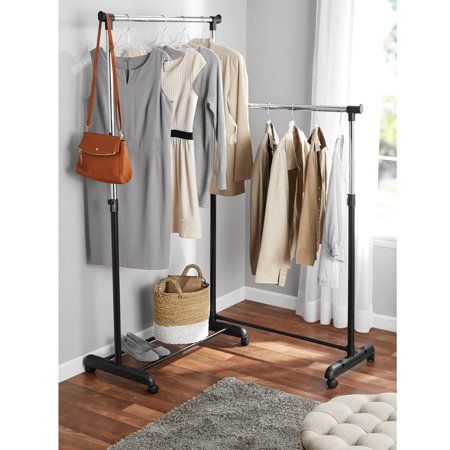 In case you have done your best and the closet is still not sufficient for your stuff, installing a clothing rack in a room corner may make the ideal solution. These racks are space-saving and money-saving as well. They also provide you with a pleasant appearance and make a matching room highlight for many purchases.
7. Keeping Your Season Clothes Where They Belong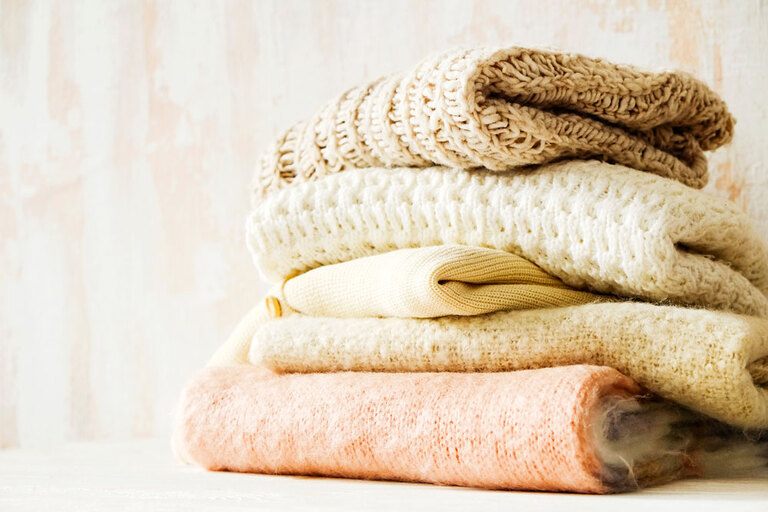 Remember to always classify seasonal items. Keep the out-of-season clothes down in drawers or bottom storage space when you do not need them. For the in-season items, organize and keep them where you usually take your clothes. Make sure you have followed some of the aforementioned tips on how to organize clothes in a small closet.
8. Getting Some Hanging Innovations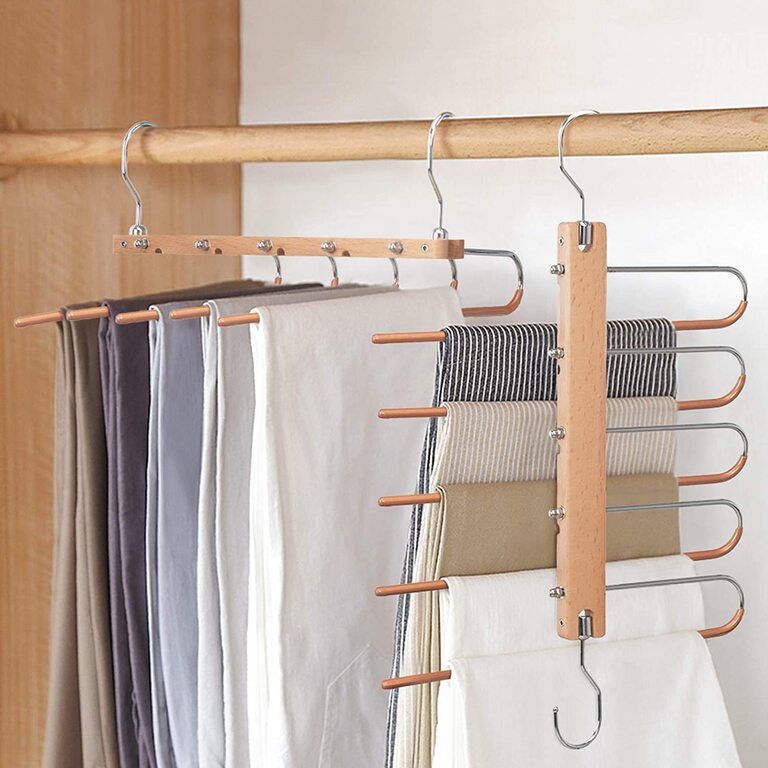 Hanging jewelry is our next solution, answering how to organize clothes in a small closet. Sometimes, hangers can take up so much space. That's why I want to reduce the number. There have been countless hanging items that can hold more than one piece of clothing for you to choose from on Amazon or eBay. Why not try some?
9. Building A Double-Rod Closet
Here is another resolution for your small closet. Just in case you have so many items that must be hung up and you only have limited space, try to customize your closet into a double-rod one. Double rods are more helpful when it comes to hanging rooms. You can now hang all your garments in the same space but double in numbers. It is certainly worth a try.
10. Making Smart Storage Room For Accessories
Strange as it may sound, accessories take more space than you have imagined. Just think of a messy closet filled with accessories such as belts, pieces of jewelry, and scarves. They are everywhere without any order or specific storage room. Why have to go through such a situation?
Now it is time for you to have smarter and tidier space for accessories. You can deal with the belts in one hanger. The scarves, ties, and other accessories can stay in a foldable or small drawer in your closet. You should also have specific dividers for them too. You would not want to take too much time getting them out from one another.
11. Getting Dividers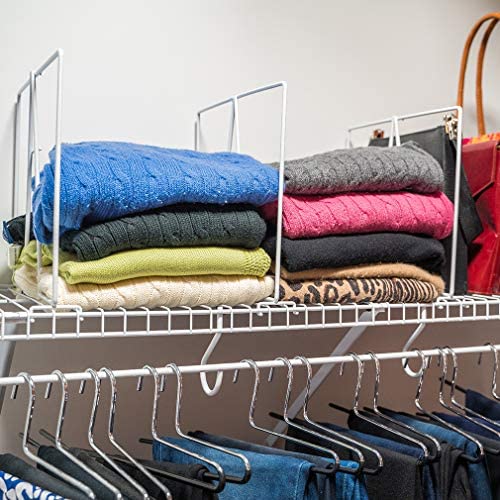 One large drawer can either contain so much in order or become a huge mess with no dividers. This is why installing dividers is so important when you want to organize clothes in a small closet. They help to put every item in order and keep up the look. Who doesn't want a tidy closet with orderly garments? And why hesitate when the price of closet dividers is affordable for all shoppers?
12. Having Foldable Clothes Organizers
One of our last solutions for a small closet is purchasing foldable clothes organizers. The price for such items varies from 10 to 30 dollars. This is not a pricey cost for most homeowners. Having these in your house would support you to keep the underwear, accessories, and out-of-season items perfectly stored. Here is what they look like for those who haven't heard of them.
13. Making Use of The Top
Leaving back the top space? Why? The top of your closet can store numerous out-of-season garments. This is also a solid and non-space-consuming spot for clothes storage. Don't skip any spot and make use of every inch. It is advisable to place some foldable organizers on the top filled with blankets or items you would not use until the next summer or winter.
14. Utilizing The Bottom Space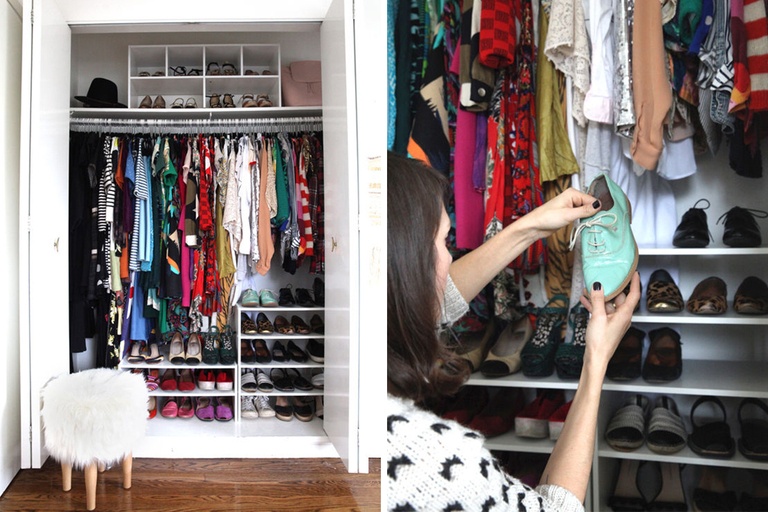 Should you make use of the top, go for the bottom also. The bottom is one perfect place for shoes. You can have a few pairs of shoes stored under your closet with no space consumption around the house. These shoes will be one of your choices. Any pair you feel like you would not use often can go right under the closet. If you don't have a bottom space, save a tier for shoes in your closet.
Conclusion
Here you have the 14 tips on how to organize clothes in a small closet. You should take advantage of every inch or corner. They can be more useful than you may think they are. Also, remember to cut down on unnecessary items and enter sustainable fashion. Lastly, don't forget to keep up with us for more home caring tips!