Thebathroom cabinet is similar to the kitchen cabinet. Before choosing a product, it is necessary to perfectly renovate your bathroom. Next is to identify the goals and priorities that you need to work towards buying bathroom cabinets. After learning about different bathroom designs and layouts and planning on space and storage.
Know that planning a bathroom renovation will help you address concerns about creating more space and choosing related bathroom fixtures including tubs, sinks, and showers. Not only that, the bathroom cabinet is a characteristic element that creates a large space that you can use to store your belongings.
Besides, the design of modern bathroom cabinets creates a space that is aesthetically beautiful but still functional. On the other hand, buying bathroom cabinets needs more attention because they have a variety of sizes, colors, and designs, including many types of bathroom cabinets you need to learn before buying.
1. Bathroom cabinet quality grade
Like the kitchen cabinets, the bathroom cabinets are available. In four basic cabinet types, RTA, are available, semi-custom and custom, and combine two forms of framed, frameless construction. In general, bathroom cabinets are often chosen as a standalone vanity.
They gladly assemble the RTA which is the cheapest type of cabinet but in exchange for inefficient materials and construction requires you to assemble it. Stock cabinets are generally affordable but have little variety in door designs, sizes and materials.
Semi-custom cabinets will often offer a variety of doors and drawers, materials, but like stock cabinets, they only measure in 3-inch increments and don't fit very well. Besides, custom cabinets will adjust to fit any given space. In the case of custom-made cabinets, there is usually no limit to the style and material, if adding finishing and decoration in return, the price is expensive.
2. Bathroom cabinet drawer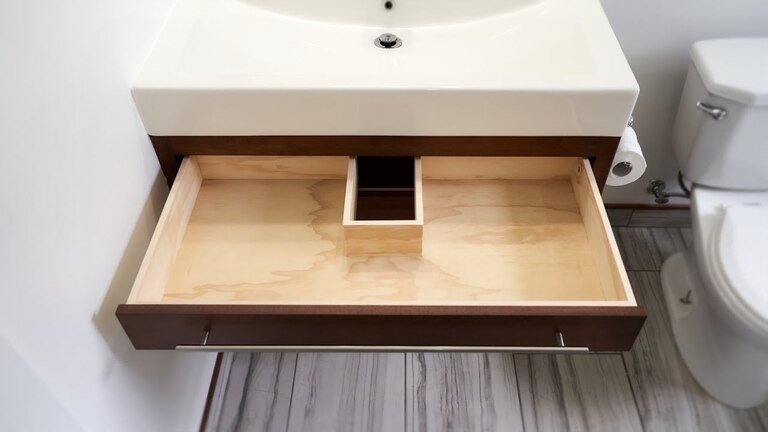 Make sure cabinets are well constructed with drawers at least 3/8 inch to 1/2 inch thick, especially at the bottom. Avoid stapling construction so check that the drawers fit snugly in the box, open and glide smoothly.
Take care that they do not sag when fully stretched. Wood siding and dovetail laminate are often marked with construction practice, but substrates such as plywood, particleboard, and medium density fiberboard (MDF) with lamination require suitable and reasonably priced replacements.
3. Materials and finishing of bathroom cabinet
Your bathroom's wear and tear is largely down to choosing materials and finishes that withstand excessive heat, water, and moisture. In general, cabinets are made of plywood, chipboard or medium density fiberboard (MDF) boxes combined with drawer sides and solid wood doors.
However, the number of material options must be based on the price. In addition, manufacturers will offer a wide range of painted, tinted, glazed, antique and luxury finishes and wood and laminate. Care should be taken when using veneers in the bath, as they tend to peel off with prolonged use.
4. Bathroom cabinet doors, accessories and hardware
Talk about the door style and decor that will make up the bathroom cabinet look. You can use doors that can be flat or the center console raised or placed in shapes like squares, domes or circles.
From handcrafted to modern styles, door styles are available at all different price points. In addition, some decorative accessories such as pillars, gears and glass pads need further customization of the interface. Overall, drawers and doors look good when combined or identical. This also applies to hardware including hinges, knobs and pull bars.
5. Customization options for bathroom cabinets
There are three types of cabinets to choose from: pre-packed, sold-on-demand and built-to-order.
Available cabinets: available in 3-inch increments, 9 to 60 inches wide, and 12 inches or 24 inches deep.
Semi-Custom: Many sizes, door styles, stains and enamels but they don't offer a wide range of choices as most cabinets are about 1 inch wide.
Customization: the price is more expensive, there are many sizes, colors, styles. With unlimited selection, however, in return delivery typically takes six to eight weeks.
6. Kinds of bathroom cabinet style
6.1 Flat style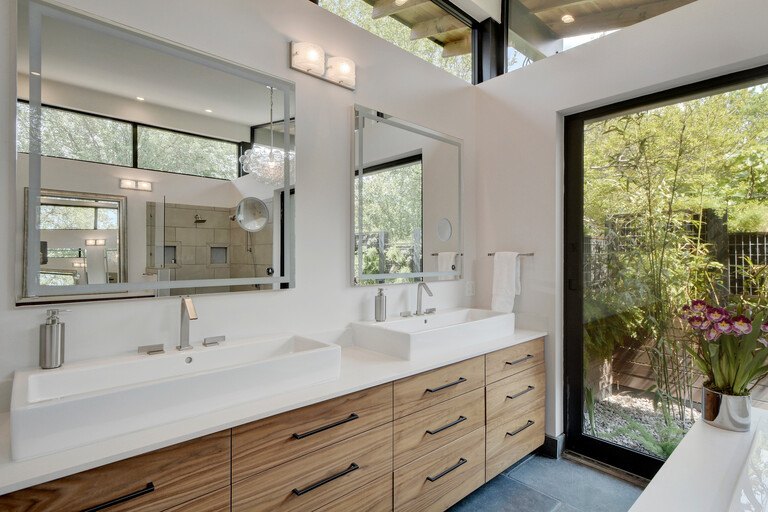 Simple design with elegant and comfortable design. Combined with hardware and some minimalism that will primarily be used on flat style cabinets, it is ideal for modern and industrial bathrooms. They are mainly made of wood or laminate material, stable prices and come in a variety of colors and designs.
6.2 Distressed style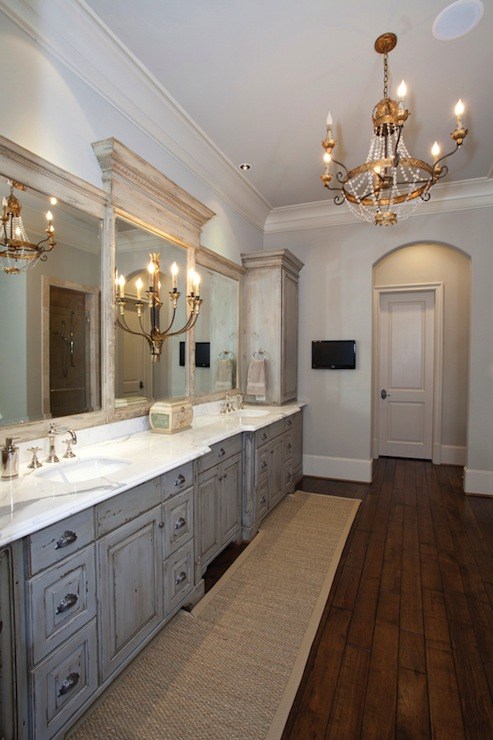 Create a classic cabinet style that is simple, luxurious and unique. The look of the cabinet will be accentuated by styling with brushed metal counter accessories, crystal lighting and a large mirror. Thanks to special decorative techniques and the addition of just the right amount of rust, this makes cabinets not limited to cottage, shabby, farmhouse and eclectic styles.
Beadboard style: designed with beadboard, known as luxurious style. They are attractive, with intricate details and accents with attractive colors. Ideal for any small home, from luxury bathrooms, rundown farm houses, eclectic styles.
6.3 Louvered stylized
Known for their canopy and sheet textures. In general, the bars used Louvered style are not duplicated. Each bar is placed close to the side, this will create just enough space to provide ventilation. Perfect for those who require a ventilated cabinet, Louvered style as the cabinet is the perfect combination of timeless form and unparalleled functionality.
6.4 Shaker style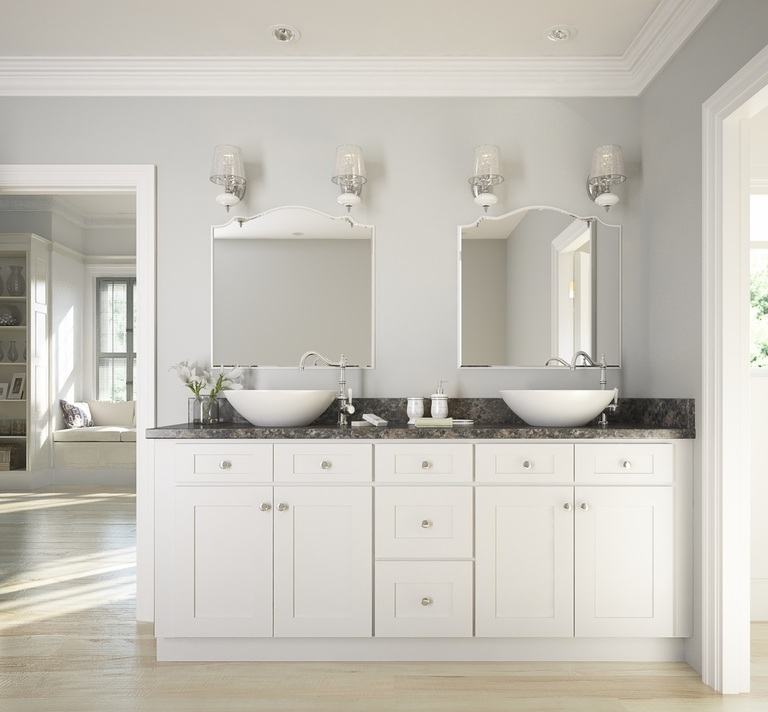 This is used so much in the kitchen space. Their ergonomic design and bright lines make them a standout for any bathroom space. Besides, the combination of the shaker is very flexible, the design is simple but elegant. Ideal for traditional, modern, eclectic, transitional bathrooms.
6.5 Installation style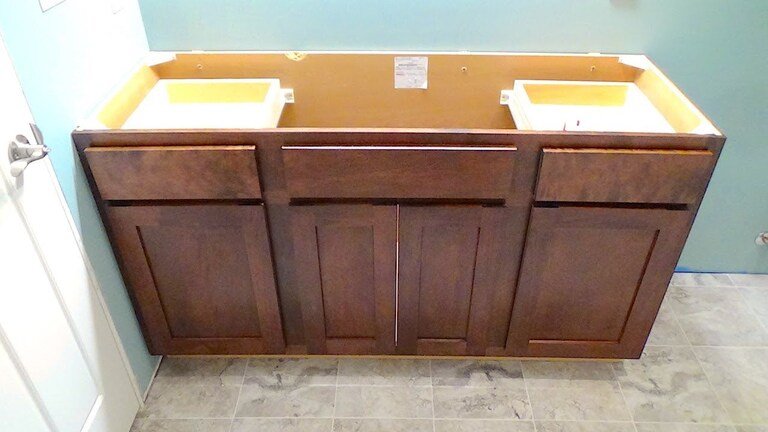 Often provides an interior style image that differs from other cabinets because the level of care taken by the craftsman is important in making the cabinets. The drawers and drawer headers in the cabinet are also precisely measured and laser cut, creating a snug fit against the open frame. They are considered the most expensive cabinets on the market, if the budget allows and the vision is sophisticated. You will surely have a great bathroom cabinet.
6.6 Thermofoil style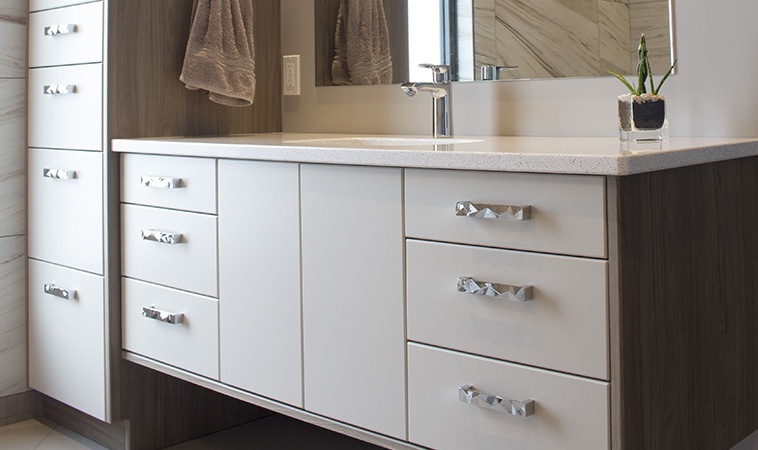 For Thermofoil, they do not contain metal or foil. They are known as the process by which thin layers of vinyl or plastic coatings are vacuum-extruded onto a medium density fiberboard and then they are heated under high heat, which creates a cushioning layer. water proof. Often these cabinets are affordable and easy to clean, and come in a variety of colors and wood types.
6.7 Custom style
Gives users the ability to design and build their own cabinets to exact size and space specifications. Furthermore, if a signature wood is desired, a top finish should be incorporated. On the other hand, some prefer to choose custom cabinets when buyers want to personalize the design for their own styles and features.
6.8 Patterned glass style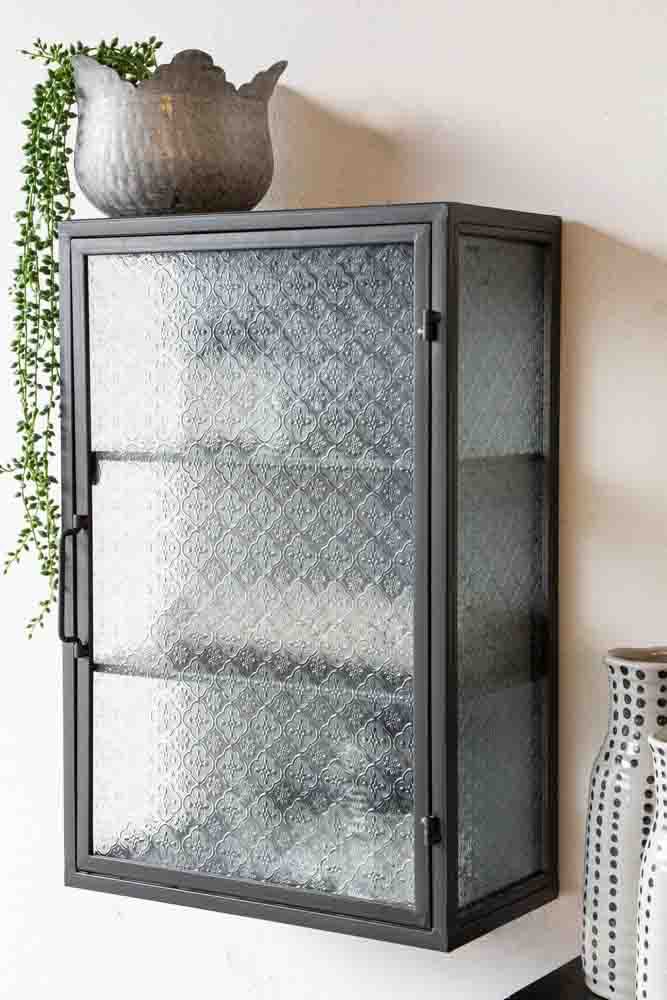 Often designed with elegant and appealing lines, this makes them ideal for cottages, shabby chic, ranch and eclectic bathrooms. In addition, the aesthetics of patterned glass cabinets are well suited to traditional and transitional designs.
6.9 Tile Mosaic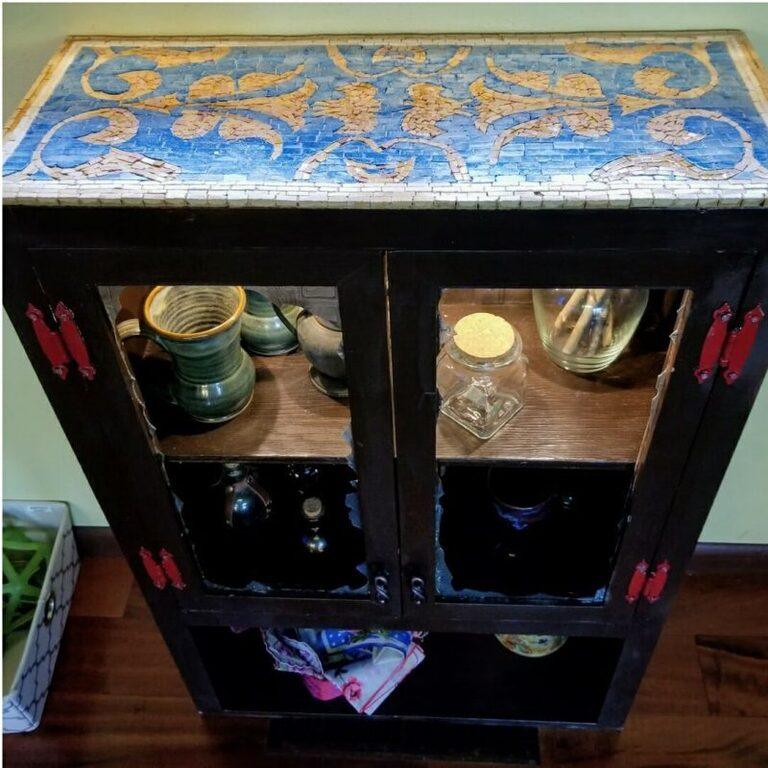 Along with its colorful appearance and interesting shapes, the intricate decorative combination is ideal for Mediterranean-themed or eclectic bathrooms. In addition, the lattice effect is achieved through coatings, paints or stencils. Here's how to add intricate details and visual appeal to any bathroom.
6.10 Engraved mirror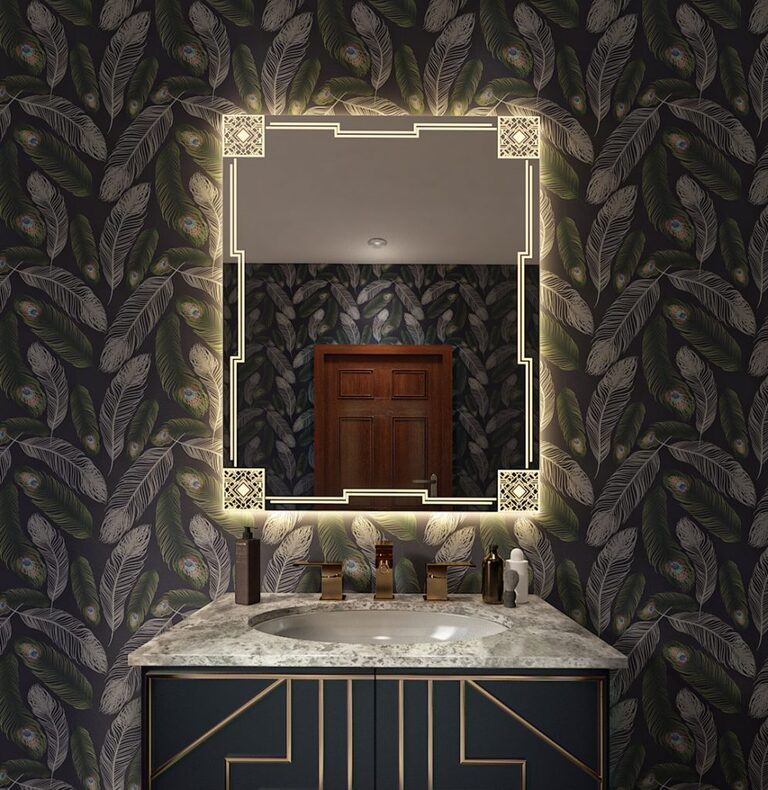 Virtually universal for any bathroom style. The glass mirror offers great versatility, and it can blend perfectly with any other decor styles such as transitional, modern and contemporary, eclectic, industrial and chic or cottage style. player.
6.11 Metal
Metallic materials are suitable for classic, modern or industrial styles of bathrooms. They will create a new look for the bathroom, besides they need to be combined with modern style lighting and accessories, which will increase the value over time.
6.12 Basic wood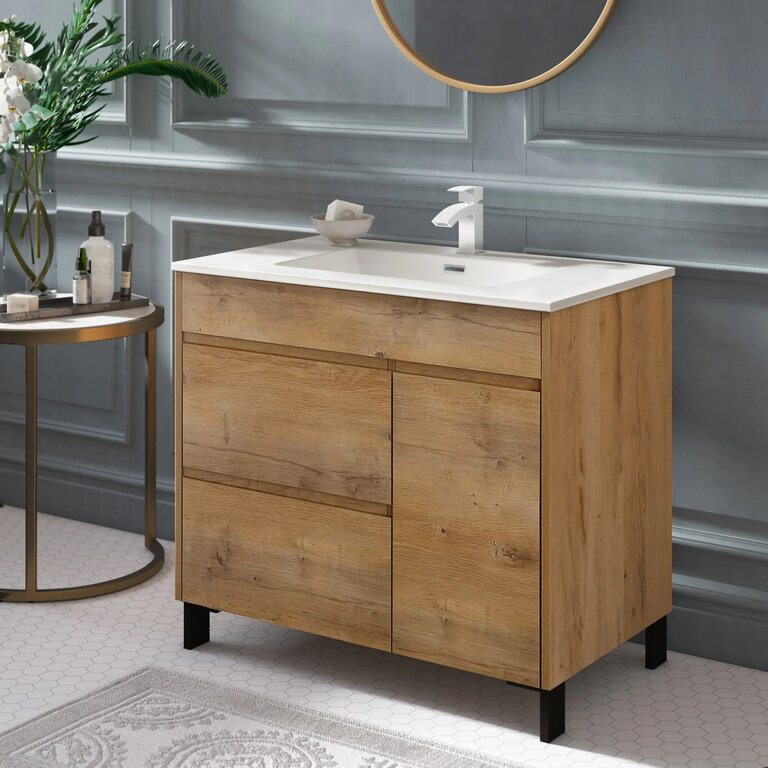 A popular cabinet style even though the cabinets are made of basic materials. Currently, there are many types of wood and color with basic cabinets, so it will be suitable for kitchen cabinets and bathroom cabinets.
6.13 Shutter style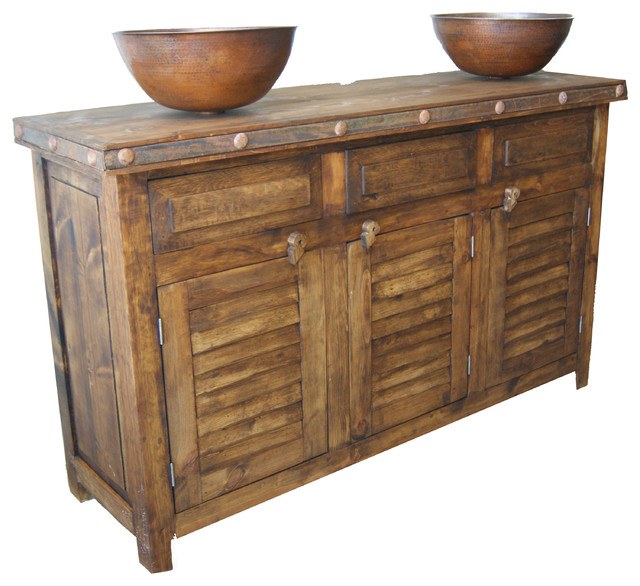 Shutter style can give a bathroom a new look. They add charm and character. Also, they add great elements on the front of the cabinet. This is the ideal element to bring beauty and relaxation to the bathroom, creating the coziness and comfort of country-style houses.
6.14 Lattice model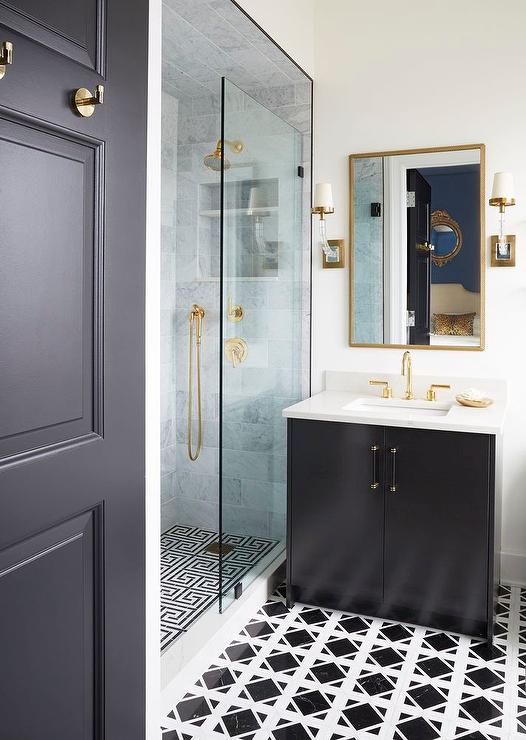 With a familiar grid pattern, popularly used to decorate the garden and the side of the house with the foliage in a grid pattern, it is easy to combine the look of the outdoor net by incorporating the mesh pattern into the grid. in.
7. Structure of bathroom cabinet
Almost, the bathroom cabinet textures are also based on your budget:
Budget: 1/2 inch chipboard face; drawer stapler, nailing, gluing; often partially open drawer slides. This is suitable for powder room vanity that does not use much. Besides, the humidity in the bathroom will also affect the quality of the chipboard.
Mid-range: the cabinets will have 1/2 inch plywood, which is stiffer than a chipboard. With added texture, makes the cabinet more durable than stapled or glued drawers.
High Quality: 1/2 inch-3/4 inch plywood or hardwood panels, with 5/8 inch hardwood drawers will have tail joints or latches. In addition, some drawers can be fully extended and slide closed smoothly.
Conclusion
Equipping a bathroom cabinet not only provides more storage space, but also creates a new look for today's bathroom. However, if you choose to style the bathroom cabinet, it also affects your bathroom space.
When choosing a bathroom cabinet, you should pay attention to choosing the right cabinet space, reflective colors, materials, especially bathroom cabinet style. Through the above information, you will be given a more in-depth look at how to choose bathroom cabinets.