Along with the kitchen cabinets that are arranged in accordance with the color scheme of the house and come with many functions, then the appliances in the bathroom also hold an important position between the rooms. It is important to pay attention not only in places such as the kitchen, bedroom, and living room where cabinets are placed, but bathroom cabinets also contribute to creating a larger space to store things.
Bathroom renovation planning is all about addressing the concerns of creating more space and choosing related bathroom fixtures including bathtub, sink and shower. However, bathroom cabinets are often overlooked while they are the element that creates a large space for you to take advantage of to store your belongings.
In fact, well-designed cabinets can help create a space that's aesthetically pleasing, yet functional. Relying on the beauty and function of the cabinet can have a significant impact on changing the look of a bathroom. Choosing bathroom cabinets needs more attention because they have a variety of sizes, colors, designs, including many types of bathroom cabinets you need to learn before buying.
1. Types of bathroom cabinet
Flat style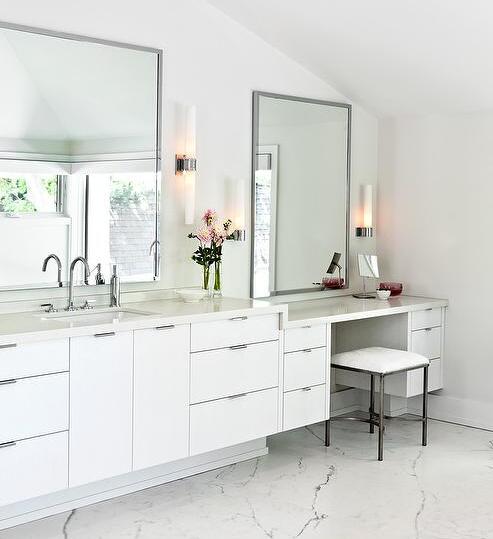 This type of cabinet has a simple design with a comfortable elegant style. Minimalist hardware and details will mostly be used on flat style cabinets, which are ideal for contemporary and industrial bathrooms. Flat cabinets are usually made of wood or laminate, have stable prices and come in a variety of colors and designs.
Distressed style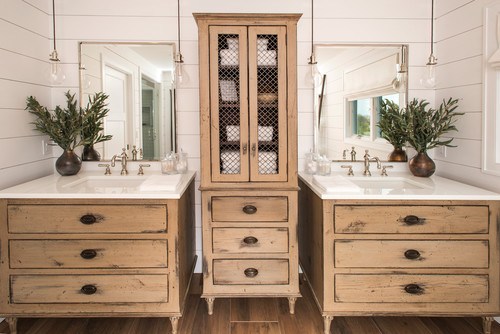 This is the type of cabinet that offers a classic style that is deliberately weathered, luxurious and unique. For the look of the cabinet accentuate the styling along with brushed metal counter accessories, crystal lighting and a large mirror. Remarkably, thanks to special decorating techniques and the addition of just the right amount of rust to make these cabinets are not limited to cottage, shabby chic, farmhouse and eclectic styles.
Beadboard style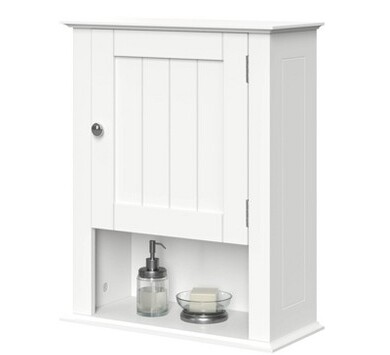 Beadboard cabinet design with bead style is a luxurious style combining style for a carefully constructed small house. The beaded cabinets provide intrigue, along with intricate details and accents with attractive colors. Ideal for any small home, from shabby chic, ranch, eclectic bathrooms.
Louvered style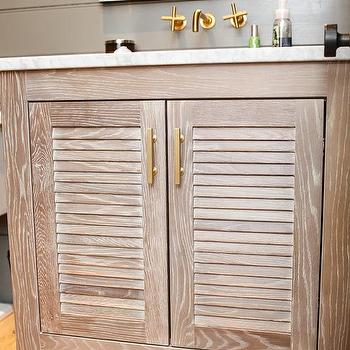 Recognized by their canopy style and slab texture. Most of the bars used in the Louvered style do not overlap. In it, each bar is placed close to the side, this creates enough space to provide ventilation. Suitable for those who require a ventilation cabinet, Louvered style as it is the perfect combination of timeless form and unparalleled functionality.
Shaker style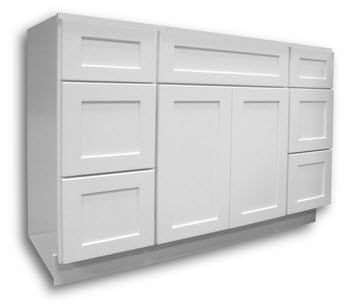 Shaker cabinets are commonly used in the kitchen space. Their ergonomic shape and bright lines make them perfect for any bathroom space. The combination of a very flexible shaker design is simple but elegant. Ideal for traditional, modern, eclectic, transitional bathrooms.
Inset style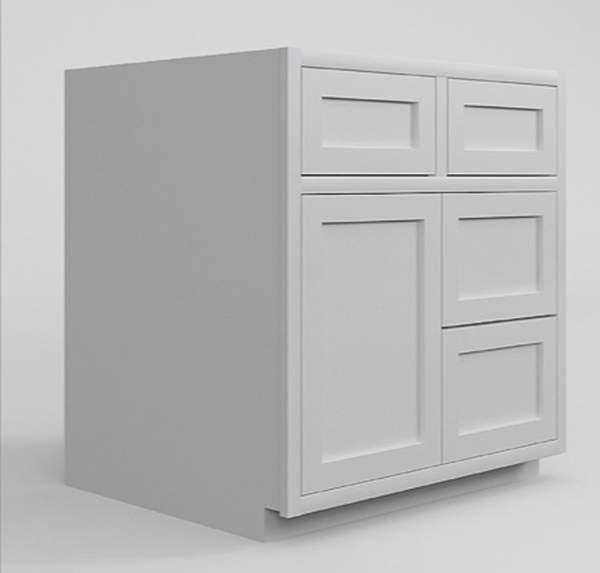 This type of cabinet has a different interior style image from the others due to the level of careful craftsmanship that is so important in its construction. In it, the drawers and drawer headers in the cabinet are also measured and cut with laser-sharp precision, which contributes to a snug fit in the open frame. This is the most expensive cabinet style on the market, but if your vision is refined in terms of selection and affordability, the expert craftsmanship ensures a superb product.
Thermofoil style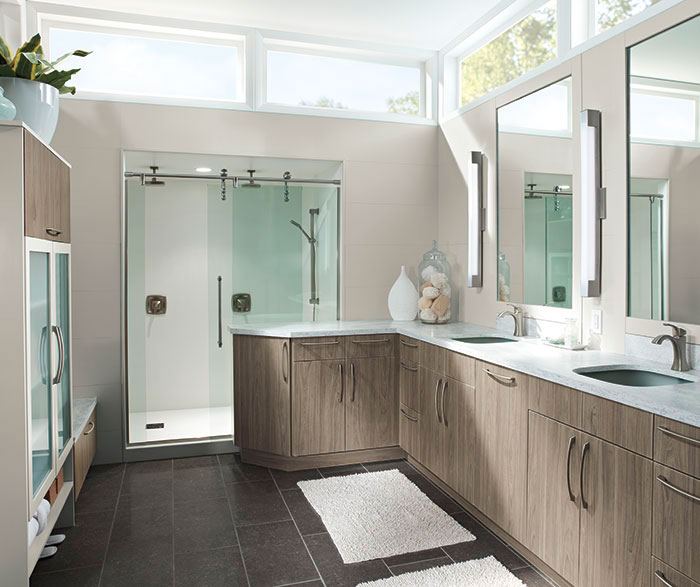 As for the Thermofoil, they do not contain metal or foil. Thermofoil is known as the process by which thin layers of vinyl or plastic coating are vacuum-extruded on top of fiberboard with medium density and then heated under high temperature, thereby creating an impervious seal. penetration. Cabinets are affordable and easy to clean, available in a variety of colors and woods. Currently, this type of cabinet is quite popular in the market.
Custom style