While having a basic tool box at your home may be sufficient for some homeowners, for the most part, you may find out with time that you may need to invest in a few power tools. Power tools are a must-have, especially for people who are into do-it-yourself (DIY) projects. The main reason is that they enable you to complete projects faster and more efficiently.
There are several power tools that you could consider investing in. However, it's best to invest in things that you'll actually use. Besides, if you need a particular power tool for a specific project, you can always rent it for that period. Since many tools are available in the market, here's a list of some of the most essential power tools to consider as a homeowner.
1. Angle Grinders
Angle grinders are power tools for cutting, grinding, and polishing various materials. It uses tiny disks spinning at high revolutions per minute (RPM) to cut through and grind multiple materials. Due to their 90° angle, angle grinders are distinct from other grinders. This enables you to access areas that would otherwise be inaccessible.
Furthermore, some of them are capable of slicing through tile and steel. The thin cutting disks are ideal for trimming metal tubing, rebar, hog wire, tiling, and detaching rusted nail heads. The thick disks made for grinding help eliminate rust, smooth off rough edges in concrete, and sharpen equipment. Moreover, some run on electricity or gasoline, while others are powered by compressed air, necessitating the use of an air compressor.
2. Jigsaw
You've probably seen a jigsaw, or maybe you already own one. Jigsaws are versatile because they can cut various shapes and patterns into multiple materials. They have a wide range of blades, enabling you to cut almost anything. Therefore, this tool may be used whenever you need to create a complex shape. You could also use them for domestic tasks, such as pumpkin carving.
3. Cordless Drill
Of all the power tools on this list, a cordless drill should be at the top of your priority list because it's versatile. Unlike wired drills, cordless drills usually use lithium-ion batteries, making them highly portable and durable. Additionally, they are powerful enough to push screws through wood boards and other dense materials.
You can use cordless drills for various do-it-yourself jobs. If you'd like to drill a hole through a wall, wood, or other rigid surfaces, this tool will be of great use to you. Plus, it's relatively easy to use, although a certain level of care and knowledge is still required to use it effectively. Remember, you still have to use it correctly for the best results and to prevent injuries. Also, try to look for a drill with an assortment of driving and drill bits or get those separately when you buy power tools UK from reputable suppliers in your location.
4. Impact Drill
Impact drivers are similar to cordless drills, and an inexperienced eye may easily mistake one for the other. However, the difference is that an impact drill can generate more force than your cordless drill and can consequently drill larger screws into more challenging surfaces. A cordless drill is typically used for drilling holes and inserting screws or other fasteners. On the other hand, an impact driver is used for driving longer screws and lag bolts.
Therefore, you must use an impact driver for tasks that don't require precise hole placement but demand more force. These devices must feature a speed/torque selector, quick-release chuck, and adjustable speed trigger. Moreover, it would be best if you exercised extreme caution when using these tools to drive lightweight fasteners. So, unless your project demands higher torque, use a standard cordless drill instead of an impact driver.
5. Wet and Dry Vacuum
The most adaptable vacuum you can get is a wet and dry vacuum. But much like any other vacuum cleaner, you need to maintain it properly for it to last. You also need to follow the usage guidelines for it to work effectively. Nevertheless, a wet and dry vacuum is an excellent investment for any homeowner.
You can use it to collect dry dirt from carpets, curtains, and floors, just like an ordinary vacuum cleaner. However, these wet and dry vacuums can also collect liquids. Wet and dry internal components are separated to guard against damage and electrocution. Additionally, these vacuums come equipped with two casings: one for wet spills and the other one for dry dust.
Even though a wet/dry vacuum is recommended primarily for cleaning up water spills, you may still use it to clean up other liquids like wine, milk, or coffee. However, you would need to clean the canister quickly. In addition, experts suggest removing the filter if you're dealing with significant liquid spills to prevent mildew formation.
6. Nail Gun
Nail guns are nail-shooting power tools. They serve as an alternative to the hammer and are generally quite affordable. If you're working with a lot of nails, a nail gun can make the job much easier. Most of them are powered by compressed air. However, electric variants are also available. Depending on the nail sizes you're dealing with, there are many different types of nail guns to choose from.
6 Best Nail Gun for DIY Projects
7. Circular Saw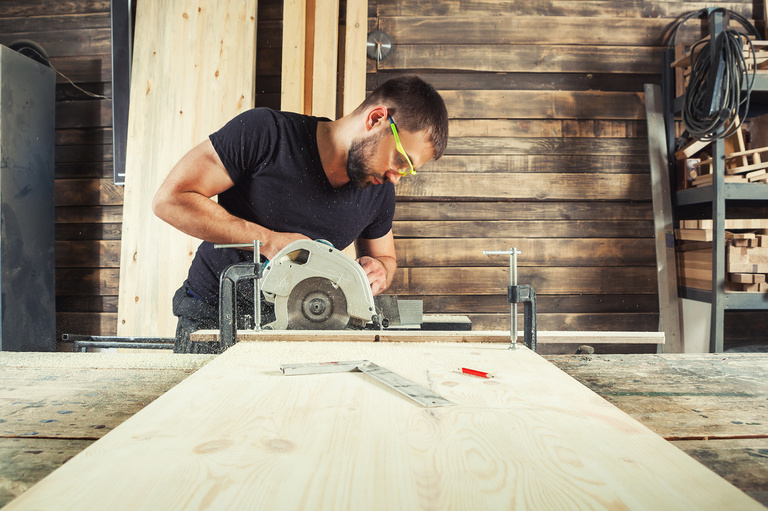 This little power tool is a tried-and-true classic mainly used in woodwork projects. With its circular blade, you can cut large panels like plywood. Plus, you can easily cut through the wood because of its adjustable blade height.
8. Heat Gun
Heat guns are straightforward to use. They resemble a hairdryer in several ways, except the air is considerably hotter. For that reason, you can use a heat gun for various purposes. They are frequently used to shrink material, dry wood, bend plastic, and even defrost frozen pipelines.
9. Orbital Sander
Almost all home repair projects include using an electric sander in some capacity. Ideally, every homeowner should have this tool, from the general contractor to the do-it-yourselfer. Any large-scale sanding is excruciatingly slow, draining, and messy. An electric sander can do the task faster and with a higher-quality outcome.
10. Impact Wrench
An impact wrench is a type of wrench that applies significant force with little effort from the operator. They typically utilize compressed air. However, electric ones are now available. These are excellent for removing stripped screws or releasing tight lug nuts. Since you never know when you'll need to remove a lug nut that's tricky to loosen, you should carry at least one of these in your toolbox.
Conclusion
There are various power tools you could invest in. You could use the above list as a starting point. However, it all comes down to your needs because every homeowner has different demands and priorities. Try not to spend money on more tools than necessary. Since power tools are often made to last, you should invest in ones that will be useful to you in the long run.
Nonetheless, when purchasing power tools, stick with high-quality brands because those products will probably last longer. Furthermore, you should always wear the appropriate safety gear when operating these power tools because misusing them might lead to injury. Typically, these gadgets come with instructions on how to utilize them. So, before you start a project, make sure you read the instructions. Lastly, remember to keep your power tools in a secure location beyond the reach of children and thieves.