A small and beautiful garden is a dream of many families, it is a place for family relaxation and gathering after hard working days. But with a small area to plant trees, to have a beautiful garden is not easy. You need an investment of time, effort, and ideas.
Here, we offer a number of decoration ideas for your garden reference.
1. Vertical garden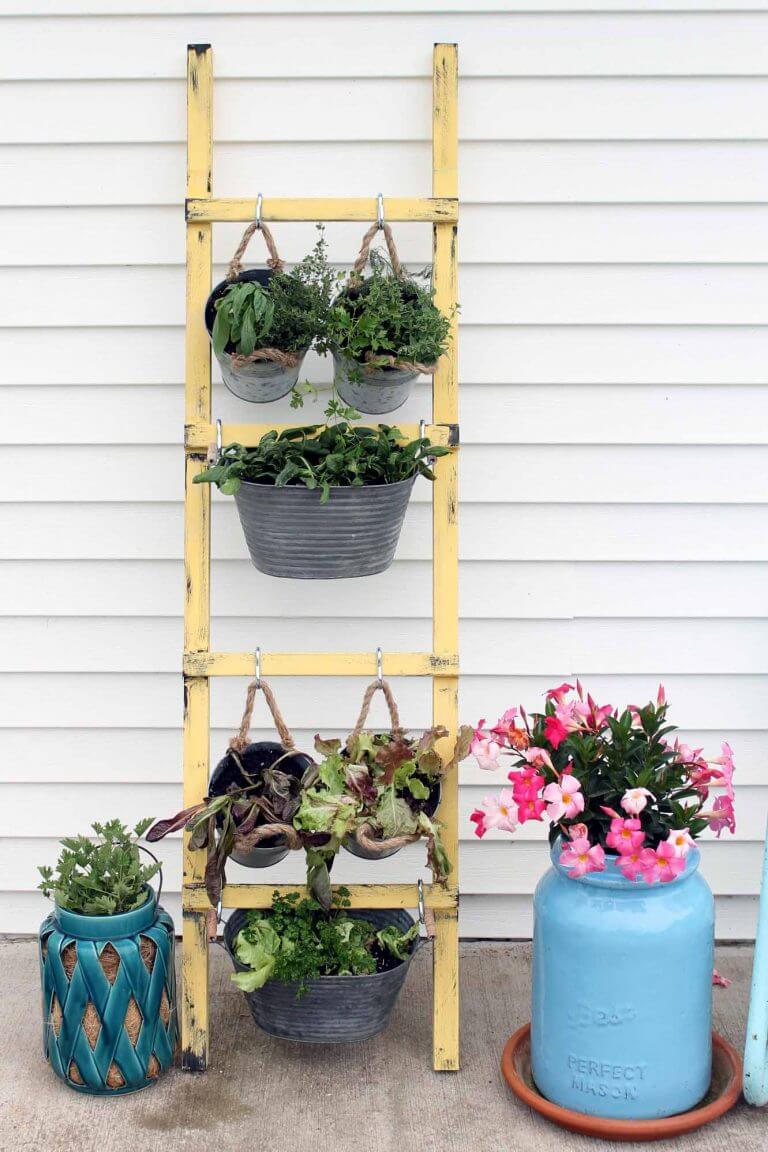 This model is made from extremely simple materials. You can easily find it in your home or around you living an unused ladder, or wooden slats that form it.
You can grow herbs or flowers on this creative platform, for both clean food and space for your garden.
2. Cozy garden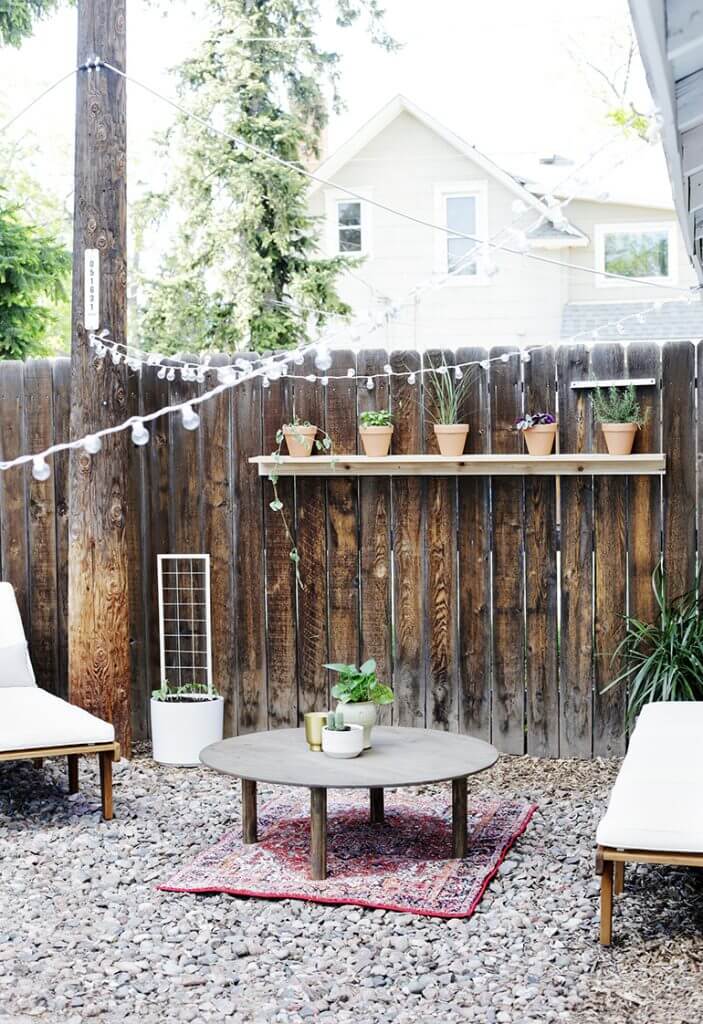 This design concept combines modern style décor with classic lamps, creating a warm garden. String lights make the garden attractive and full of warmth.
In addition, for a fresh space, you can plant some flower plants in terracotta pots or dwarf varieties in the container.
3. Ideas for garden decoration from glass bottles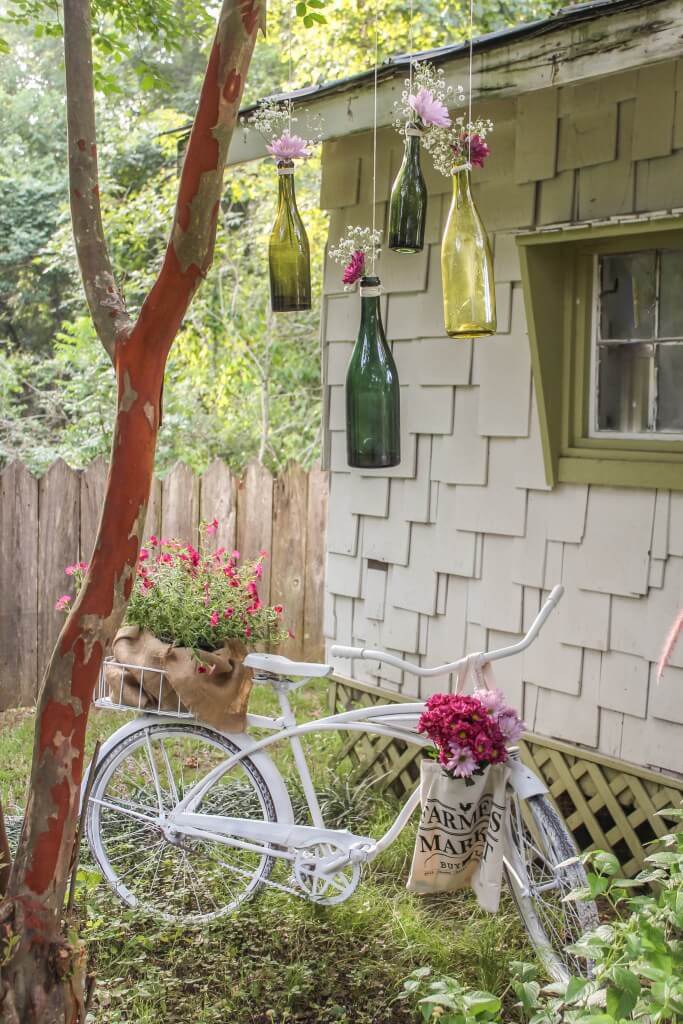 Colorful glass bottles like white, green and pink, ... Their combination makes the garden interesting to see, creating more accents for the flowers. What's more, painting a vintage bike in white - or whatever color you like - is a way to engage people from the very start.
4. Planting flowers in galvanized pots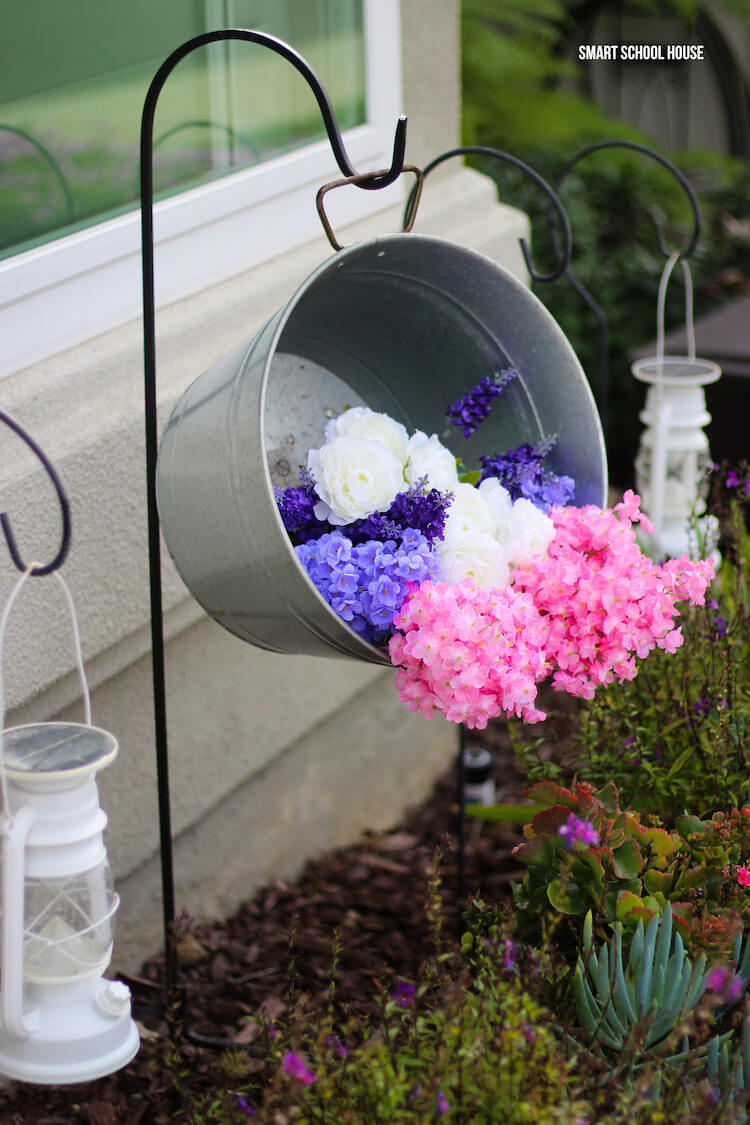 Here's the idea of using vintage sinks, buckets, or containers to grow flowers. To emphasize the cascading look, you can use a vines system. If you want the idea of a fairytale garden, try adding a figurine in the middle of the flowers.
5. Classic decoration ideas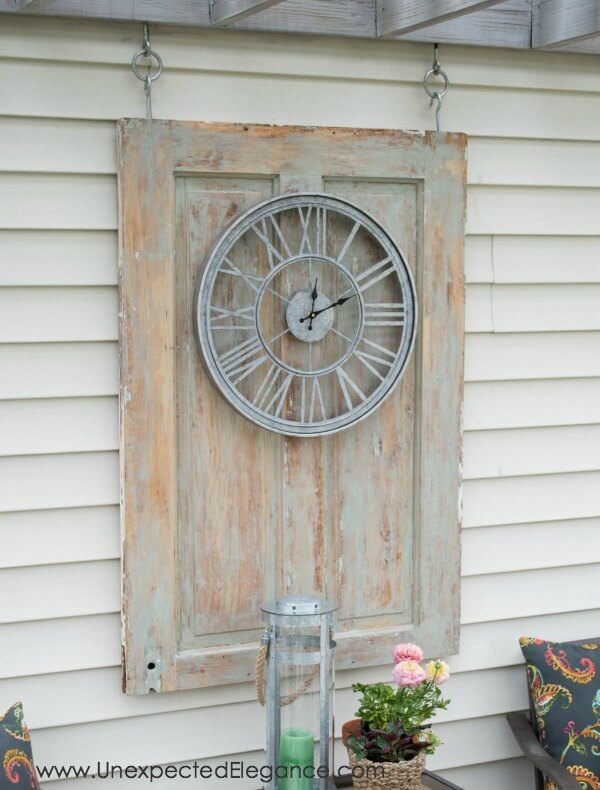 The idea is made up of elaborate Roman numerals and a doorway, this combined renovation creates a relaxed, intellectual garden. To personalize this pattern, consider adding a line of your favorite text or sayings along the edges. For a more elaborate touch, translate your favorite saying into Latin before painting it. Consider adding some shelves in the space below the watch.
6. Utilize from items in the house - Bedside cabinets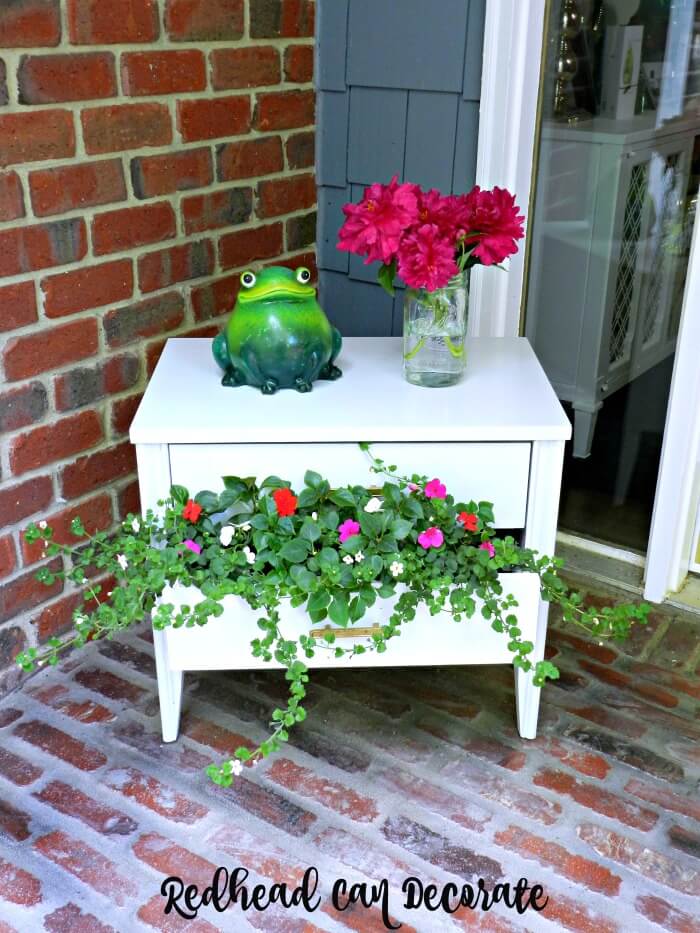 This is a combination of sharp white and fresh green in a nightstand that has been reclaimed to decorate the garden. The color scheme of the figurines and greenery is a great way to turn a mediocre bedside cabinet into a conversation starter gallery. You can plant some flowers inside and style it with additional figurines. The downside of this idea is that it should only be placed in the porch area, but it can suit any classic furniture that withstands the weather.
7. Garden ideas in the garden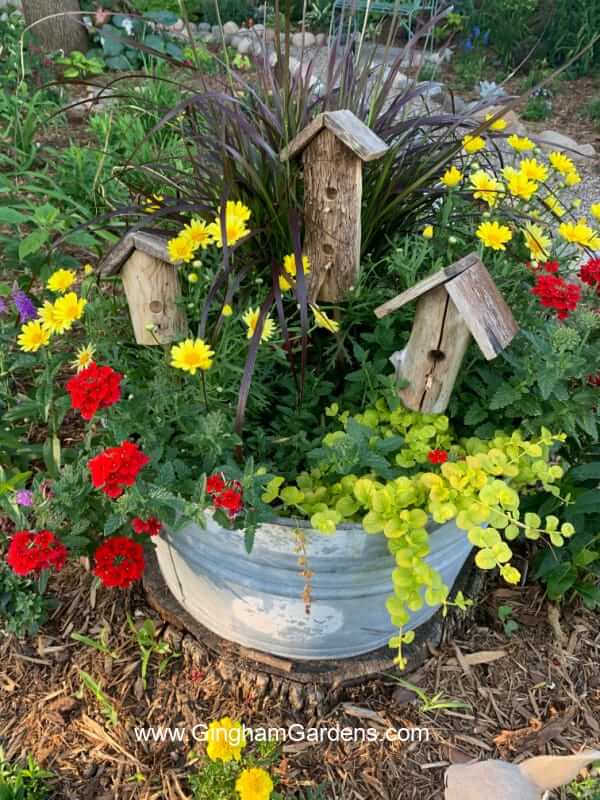 With any tub or pot, you can plant flowers, decorative grass and some fake bird pens. If you grow flowers and tall grass that dominates your landscape, consider using more vines, and not growing flowers. To attract people when coming here, paint the bird's cage roof with some attractive colors, prominent in flower gardens and gardens.
8. Classic lamp garden idea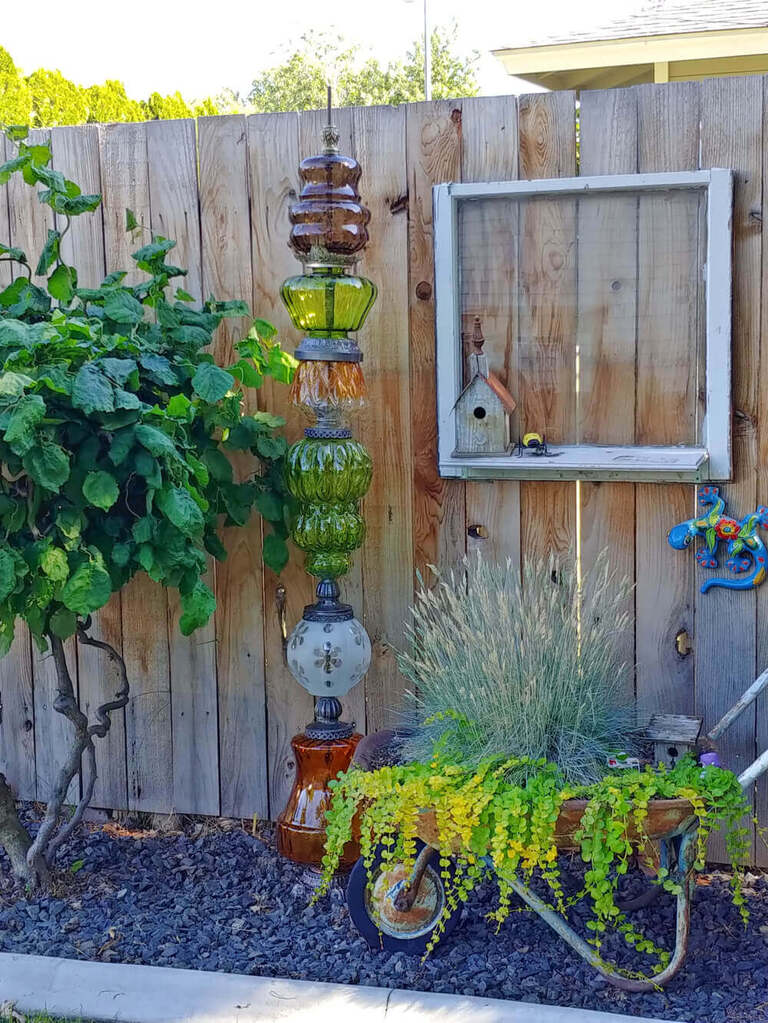 Both economical and with plenty of vintage charm, this garden decoration idea is a great choice. Each pillar, or totem, is what's available around you. If you want to personalize your pillar even more, consider painting some glass spheres. Connect the wire between the two pillars, you will have a unique flower trellis. It is suitable for growing flowers, raspberries, or even grapes.
9. Statue inside a classic red lantern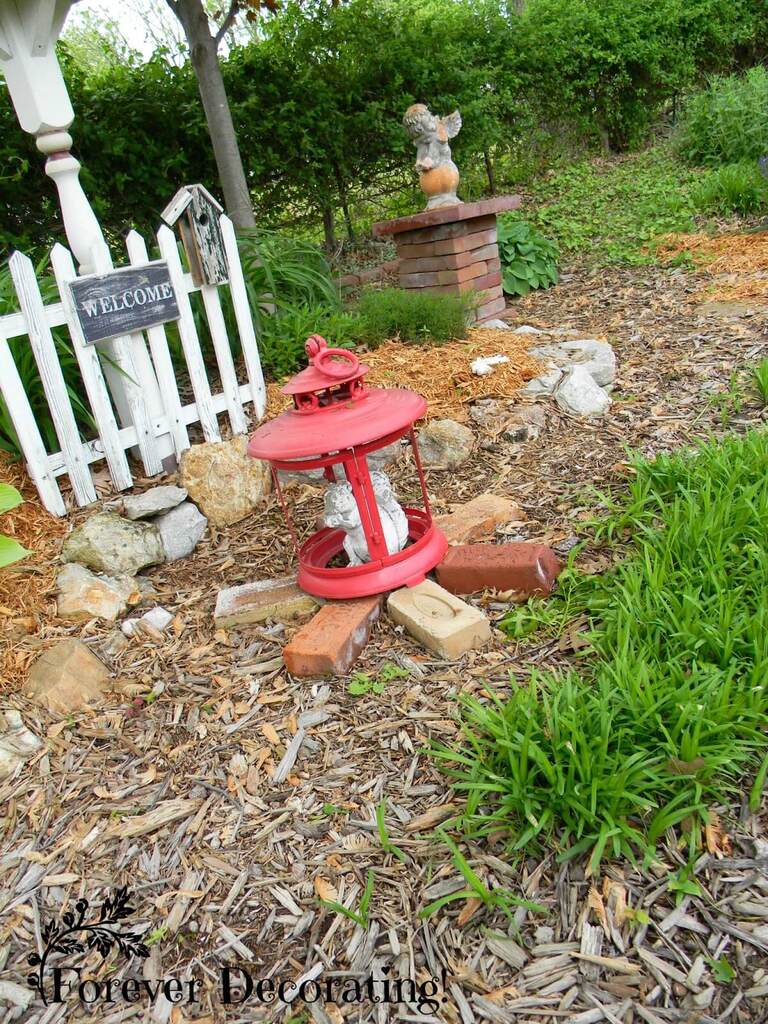 This is a creative idea, that is to use one as a framework for another. The key to this idea's success is focusing on shapes and being mindful of color coordination. For example, as in the image above, you use red lanterns and brick campfire-style cubes. In a variety of ways, you can frame vintage decorations to make your garden unique.
10. Geometric stone fountain
This idea gives you a green space, so you can relax and relax after stressful working hours.
A gushing fountain not only helps people relax, but also provides a source of water for butterflies and honey bees. You can place a potted plant with a watering jug or galvanized steel potted nearby. Add some lighting and some classic seats to turn your fountain into a quiet getaway after sunset.
11. Creation of "saucers"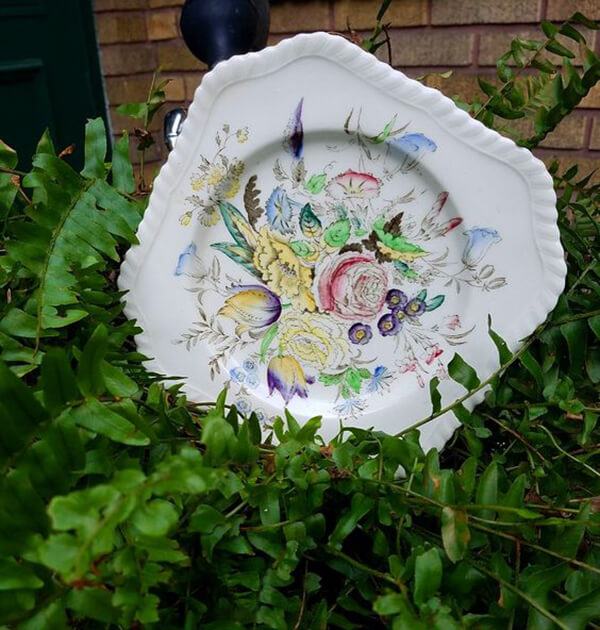 Classic plates are a way to personalize outdoor spaces. It adds sophistication and elegance. A simple way is to attach the panels to the surroundings, ensuring colors or shapes are repeated. Look for plates with funny floral details or some of different sizes.
12. Golden candle holder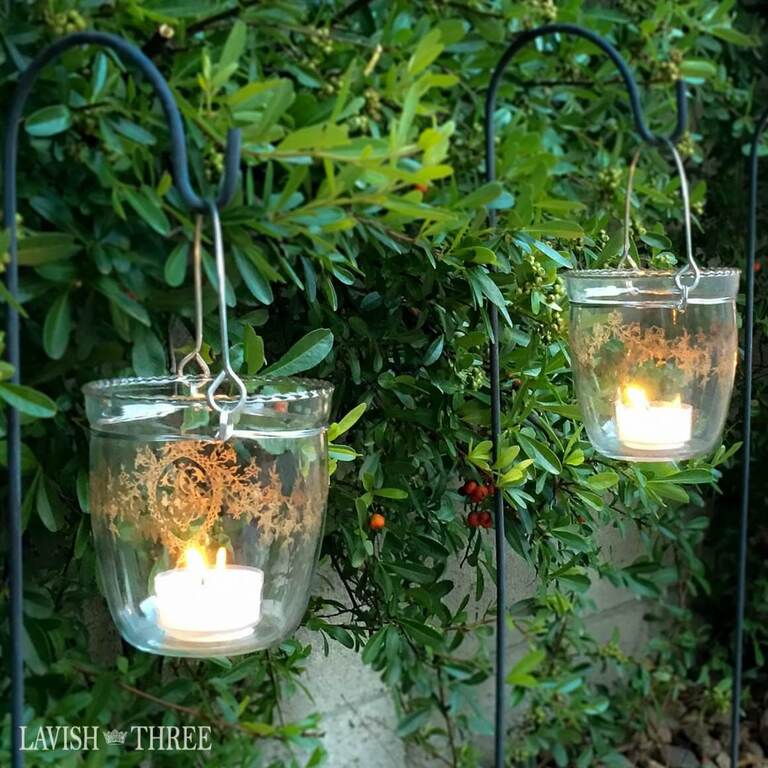 Use these carved candlesticks as inspiration to add elegance and sophistication to your garden. This model uses a metal shape for a luxurious feel. You can also use blue, pink, or white candle holders to achieve a more exotic vibe. Adding candles is a quick way to add romance to any space. In particular, scented candles will help create an outdoor resort.
13. Infused into the yard a number of interior decoration elements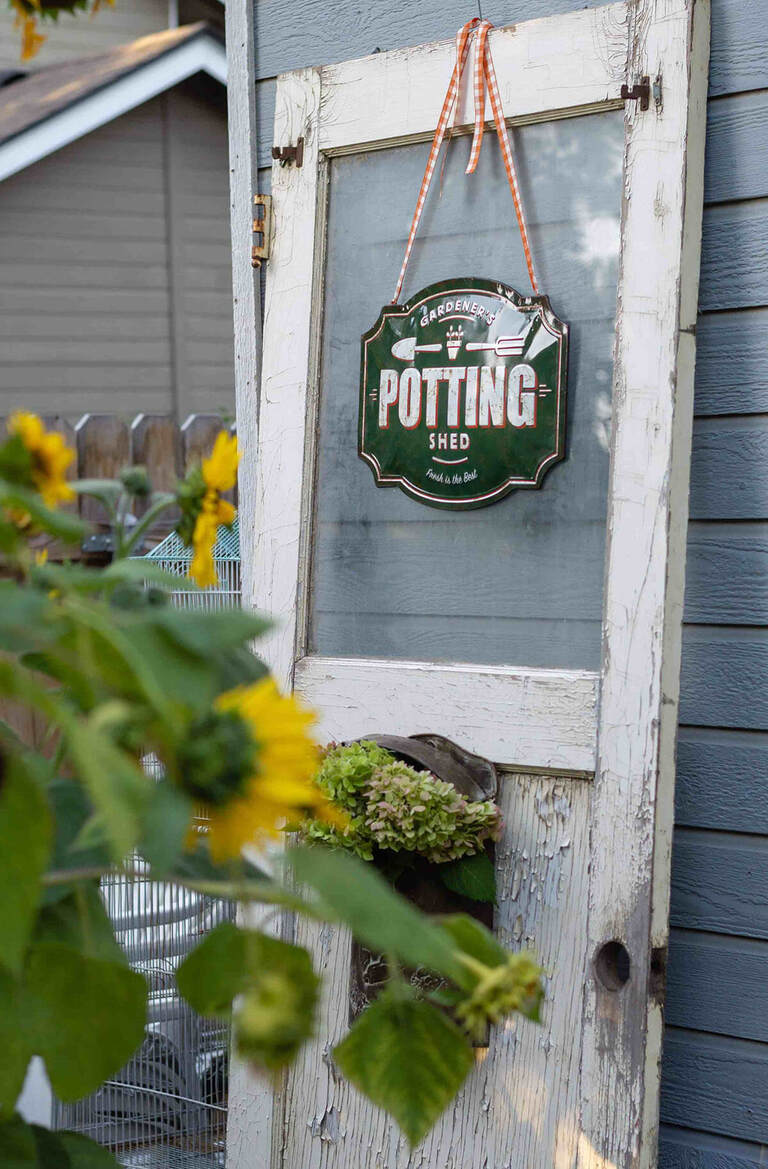 Use this reclaimed white door to look like a piece of art in your yard. Hang a sign on it. You have just created a new path to your garden barn. All the characters from this door that lead into your yard add extra appeal to your yard.
14. Classic metal wheelbarrow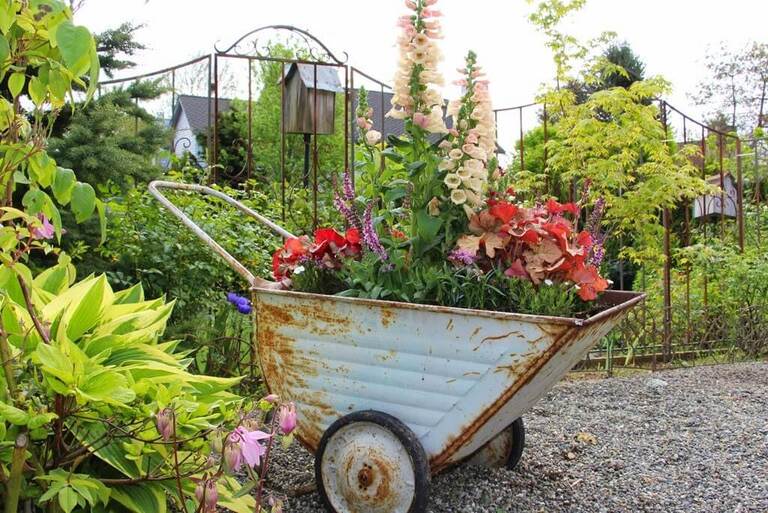 This wheelbarrow was given a second life as custodian of the garden. Vibrant and brimming with beauty, this vintage metal gardening helper has all the space from garden to porch or simply acts as a unique and quirky planter. Since it has wheels, you can move it around your garden so its beauty goes on an adventure.
15. Hand-painted bronze mushroom garden sculpture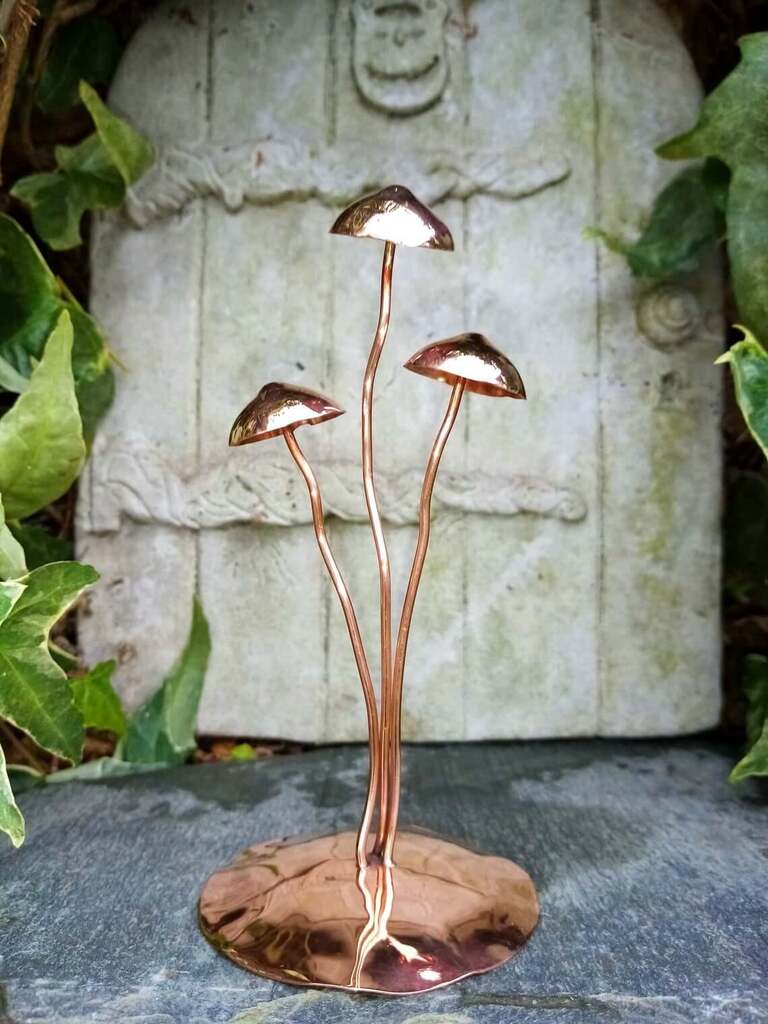 This idea requires finesse and fussy, more time consuming than other ideas. Whether you love a fairytale garden or simply love the bizarre, these copper mushrooms are a unique addition to any garden. However, since they are copper, they will rust over time. You can lacquer to reduce rust formation.
Conclusion
No one does not love beauty. Anyone wants to create their home, their garden with a unique and comfortable relaxing space. Better yet, it was created from the hands of family members.
Hopefully, with the information and ideas we provide, will help you choose your garden decoration ideas, or upgrade to more creative, unique ideas.