Many people have already started to think about making their lives environmentally friendly. One of the best ways to do that is to stop buying things and try to make clothes and furniture by reusing items that you no longer need.
One of the things that you can reuse and repurpose is your old garage door, which makes for an excellent base for other things. Thanks to their sturdy construction and a very simple design, they are like a blank canvas that is just waiting to be transformed.
If you were capable of choosing the right garage door size for your house, you should be able to repurpose that door and create a variety of different things, ranging from benches and chairs to fences. Here is a list of such things that might get you inspired!
Create a Dinner Table
Turning an old garage door into a dinner table is probably one of the most rewarding ways to reuse it. That is especially the case if you have a big family to gather at it. Your old garage door should provide you with enough space to work on.
You can either leave it as it is or adjust its size to your family's needs, as well as the size of your dining room if needed. Moreover, it is a much more cost-effective solution than buying a new dinner table, especially if you want it custom-made.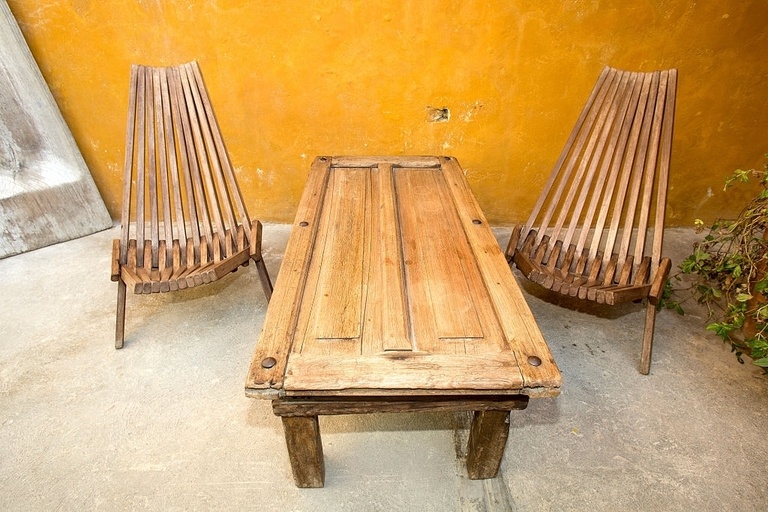 To make a dinner table out of your old garage door, follow these steps!
After demounting the door from the garage, remove the old layers of paint coating - it is best to do this with an orbital grinder.
Make the base and legs for the table from the thick board or a wooden beam.
Polish the countertop thoroughly and then coat it with epoxy resin and hardener. This material is quite pricey, but considering that the rest of the materials are either cheap or free, this DIY project remains budget-friendly. Keep in mind that when pouring the resin, you need to be extremely careful! The dust or flies that get into it can freeze and, as a result, ruin the table's overall appearance.
When all the pieces are dry and ready, it is time to assemble your new table!
Make sure to stick to these steps in order to prolong the life of your old garage door and protect it from deterioration!
Coffee Table
If the dinner table seems too much for you, but there is a large living room in your house, you can still use your old garage door and make a coffee table that does not take that much space.
You just need to choose the right size and attach a table base to it - you can either DIY as mentioned for a dinner table or buy a metal one for added durability. Then make sure to sand the surface of the table for smoothness. The rest depends only on your imagination. You can paint it in any color or design you like!
Build a Patio Cover
Does your patio cover look old and rusty? If that is the case, then you can use your garage doors to create a new one! You can even make a stylish pergola and decorate it with plants and flowers. This is an effortless and cost-effective way to create a lovely space.
On the other hand, you can use wooden garage door planks to make a stable base for your patio zone - just make sure to rot-proof the planks to make your patio last.
You can do this by checking if the wood your garage door is made of is decay-resistant, like cedar or redwood, or treat it with preservatives, such as creosote or tributyltin oxide.
If you decide to treat the wood yourself, keep in mind that it is better to soak the planks in these preservatives for maximum penetration rather than just using a brush.
Construct a Greenhouse
Who does not want to grow their own organic veggies and herbs? If you like gardening but do not have the space for growing your own vegetables just yet, consider building a modern greenhouse with the help of your old garage doors.
Indeed, it is quite a big DIY project that may require getting additional help or outsourcing. However, if you have a garage door with built-in windows, you are halfway done! You can use these glass garage door panels to construct a greenhouse and replace the rest of the door with more glass if you want to make the greenhouse brighter and more spacious.
Bear in mind that you should choose paint and primer for outdoor use when bringing this DIY project to life. That way, you will make your greenhouse more durable.
Benches and Chairs
Benches and chairs are not hard to come by in parks, patios, and summer houses. They are usually made from wood, but if you don't have a lot of money for buying a few benches, you can make your own benches and chairs from used garage doors.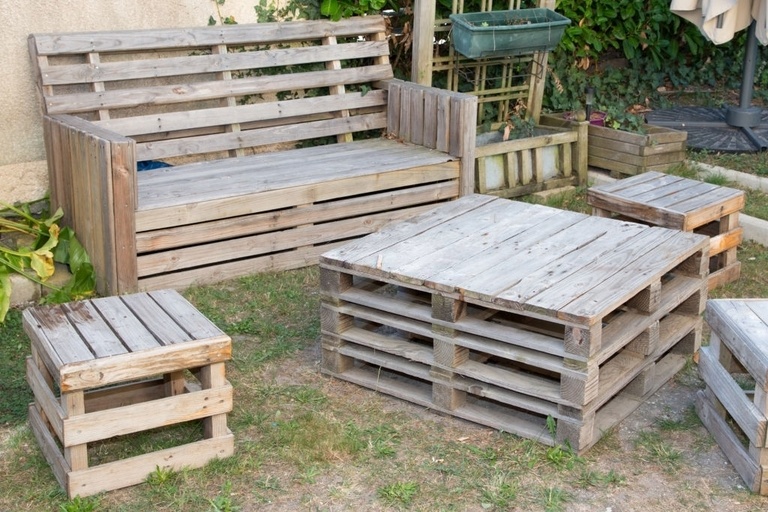 For this project, you will need an old garage door, plywood panels, screws, hinges, and nails. First, cut the doors into rectangular pieces that are long enough to create seats. Then, make legs for the benches or chairs by screwing four boards together at their ends. When finished, paint them in your favorite colors!
Conclusion
Giving a second life to things that no longer serve you well is an excellent opportunity to express your creativity and bring your boldest ideas to life. This way, even an old garage door can find its new purpose in many unexpected ways.
DIY projects mentioned in this article - a greenhouse, a patio cover, tables, and other furniture pieces - are just a few of the examples that will allow your old garage door to stay useful for years to come. However, there are even more things to consider, such as coat racks, flower beds, headboards, and picture frames, among other things.
Repurposing your old garage door will require thinking outside the box and putting some time and effort into the work. Still, it will reward you with a cost-effective and incredibly environmentally-friendly, custom-made addition to your house that will get your neighbors envious.