To all the cooking lovers out there, have you ever wondered what the most essential kitchen tools are? If your answer is yes, we think you have come to the right page. Why do we say so?
Because today we are going to show you some of the must-have kitchen appliances that you may be interested in. What if you are here though you are not even into cooking? You may still want to go through our article since it will be a helpful guide for you in case you need to buy a present for your parents, your significant others, or your children who may happen to love cooking.
Before moving on to our list, keep in mind that these tools are not organized in order of usefulness, meaning they may be all equally valuable. And now, let's jump right into what we found to be must-have kitchen appliances!
1. Air Fryer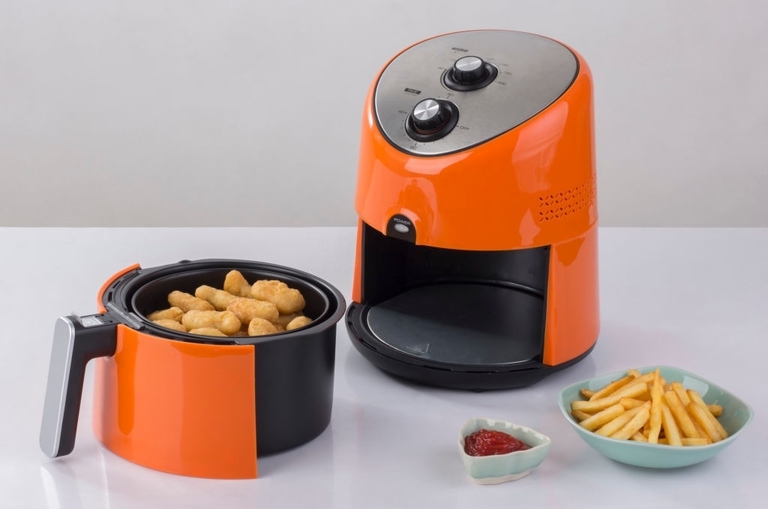 If you are a true cooking-aholic, you definitely know what an air fryer is because it has become a phenomenon recently. An air fryer can be used to cook almost everything from main dishes to desserts. But a more important element that makes people love air fryers is that it can cook a really delicious meal with an easy recipe for a short amount of time.
An air fryer is a smaller convection oven. It works by circulating hot air around the food at high speed using a convection mechanism to kick off the browning reaction of caramelization and the Maillard, thus to cook the food and create a crispy layer. Normally, when you want to make crunchy food, you have to deep-fry it with a whole lot of oil. However, with an air fryer, oil is not necessary, which is why this machine claims to create more healthy food as it reduces the amount of fat in processed food.
Here is something you need to consider before getting an air fryer:
Loading: Some models are designed with front drawers to load and unload the food, while others use a flip-top lid.

Easy to use: Make sure that you understand all the buttons, and the machine is easy to detach and clean.

Controls: What is the maximum temperature that the air fryer can heat? What controls does it have? You may want to look for one with a reheat button for leftovers, or presets for fish and chicken.

Size: The size of an air fryer will define the amount of food you can cook, so make sure to check this aspect as well because you do not want to buy one that cannot cook enough food for your family.
On a side note, air fryers still have drawbacks. The food cooked by this appliance cannot be as crispy as when cooked by deep-frying. And an air fryer can be very expensive, ranging from $70 to up to $300. Therefore, you should consider whether you really need an air fryer or not before purchasing.
2. Non-stick Frying Pan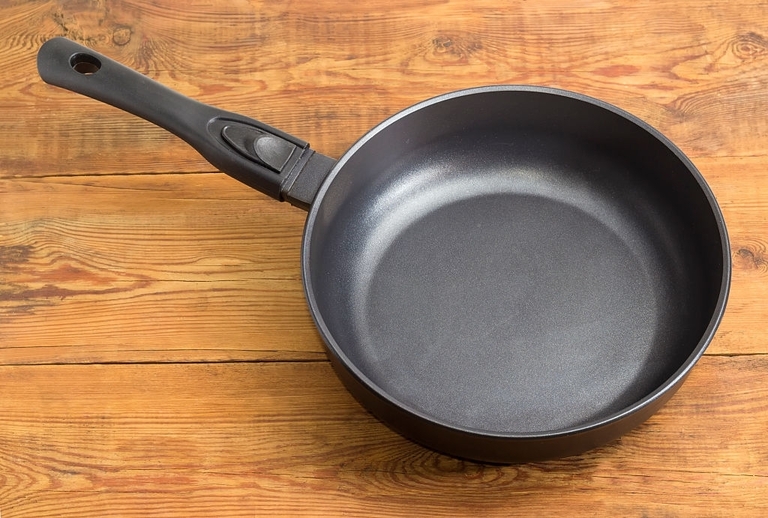 If you like to fry eggs or make pancakes but always experiencing these foods get stuck to the pan, we highly recommend you look for a non-stick frying pan. Different from a normal pan, a non-stick frying pan contains a special coating made from chemicals that have non-stick properties. Despite the chemicals, this tool is not considered dangerous because the chemicals used are not in harmful amounts.
On the one hand, a non-stick frying pan can save you a lot of time and energy. It helps to prevent sticky food on the pan, so you do not have to spend much time washing it out. It also allows you to cook with less butter and oil, which means cutting the fat in food. On the other hand, the life-span of a non-stick frying pan is short. At a very high temperature (350 Celsius degree and higher), it may decompose significantly fast and emit noxious fumes. As it ages, it begins to chip and flake. Hence, once you see this happens, make sure you stop using that open and replace it with a new one.
Different types of coating:
Polytetrafluoroethylene (PTFE)

Ceramic

Silicon

Porcelain Enamel

Seasoned Cast Iron

Anodized Aluminum

Superhydrophobic
3. Rice Cooker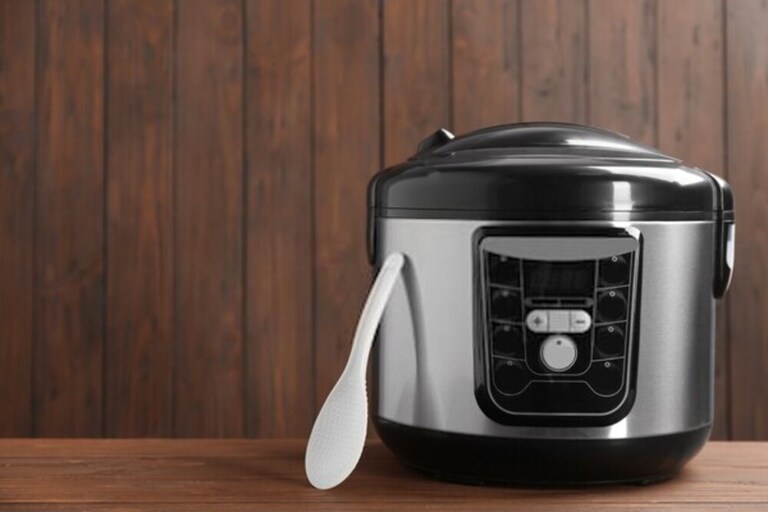 Rice is widely known as a signature of Asian culture because Asians almost eat rice every day. Before the rice cooker existed, the process of cooking rice could have taken hours to finish. Nowadays, thanks to the invention of the rice cooker, you only need less than 30 minutes to get the rice ready for your meals. A rice cooker is basically designed to boil or steam rice. It comes with a heat source, a cooking boil, and a thermostat. There are also more complex rice cookers with more controls to make them multipurpose.
However, what a lot of people do not know yet about this tool is that it actually has more functions than you think. You can steam eggs, make oatmeal, cook any kind of soups and stews. The procedure is super easy: you just have to toss all the ingredients into the cooker, then choose a desired way of cooking.
In order to pick a rice cooker, you may want to consider how much food you need to cook and what functions you need. A multipurpose rice cooker would definitely cost more than a normal rice cooker, but take into account its conveniences, why shouldn't we give it a try?
4. Blender
You do not want to miss a blender if you are an eat-clean person that cannot live without smoothie bowls. A blender is used to mix, mash, and emulsify food and other substances. It consists of a blender container with a rotating metal blade at the bottom, powered by an electric motor placed in the base.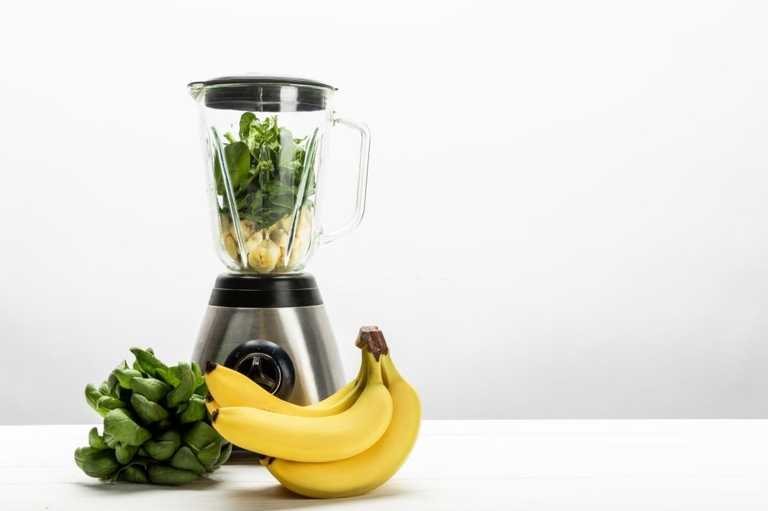 There are many different types of blenders:
Hand Mixer: an electric version of the old-fashioned eggbeater.

Immersion Blender: the most common type of blender, which is a handheld stick with a handle at one end and a chopping blade at the other end.

Single-serve Blender: also known as bullet blender. To use this blender, you will put all the ingredients in the bullet-shaped container, screw a chopping blade to the top, turn everything upside down, then insert it into the blender base.

Portable Blender: very popular nowadays due to its convenience. This type comes with one end screwing into the blade base that contains the motor and the other end screwing into the lid.

Countertop Blender: generally has a 64 oz, or almost 2-liter capacity, which is why families tend to prefer this.
Some of the famous brands for blender are Vitamix, Kitchenaid, Ninja range, and NutriBullet. You may also want to check for the power of the blenders if you wish to crush ice and frozen food.
5. Airtight Food Storage Containers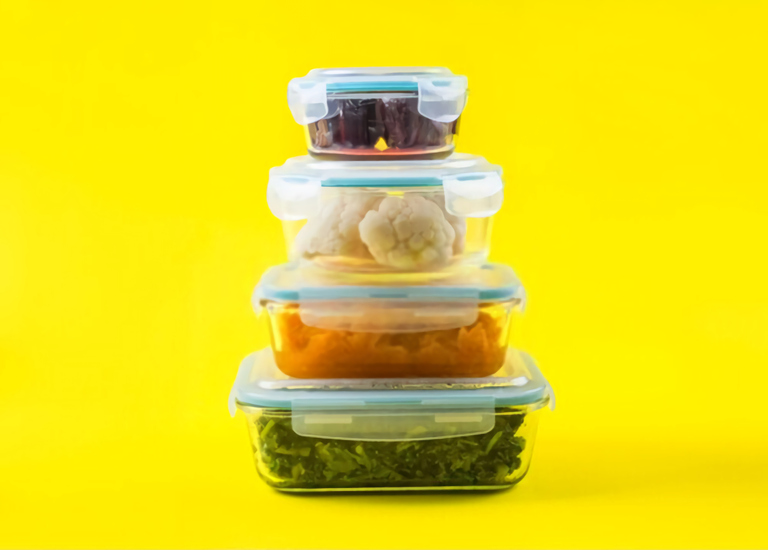 These containers are no doubt one of the essential kitchen tools. In every kitchen, there will be a lot of ingredients. And in order to keep them organized, we think you will need help from airtight food storage containers.
First of all, these things will help to store everything in order, which makes it easier for you to find later. Secondly, they can keep your ingredients safe from insects and dust, improving the safety and quality of your food. And most importantly, the airtight property of these containers will prevent your ingredients from becoming soggy, so you will be able to store and use your ingredients for a longer time.
Airtight containers vary in size, shape, and design. They often come in a set with different size, thus you can choose this option for variation and lower price. Some recommended brands are OXO Good Grips, Rubbermaid Brilliance, Zeppoli, and Oggi.
6. Chef's Knife
A chef's knife used in the kitchen is different from a normal knife. It is much sharper due to the fact that it was designed mainly to slice large chunks of beef. A sharp blade gives you better control, hence reducing the risk of accidents. So owning a chef's knife can help reduce the time to prepare the ingredients.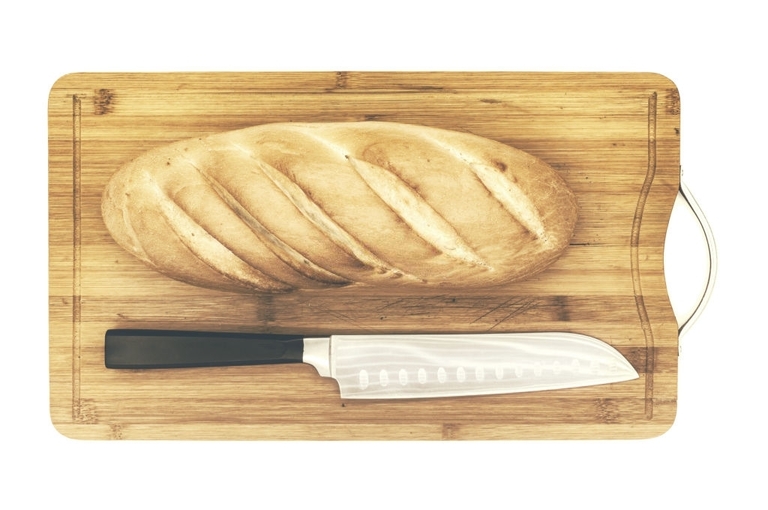 This knife generally has a blade ranging from six to fourteen inches in length and one and a half inches in width. There are two common types of blade shapes, which are French and German. The former one is more deeply and continuously curved along the whole cutting edge, which the latter is straight until the end before curving up to the tip. The blade of a chief's knife is usually made of carbon steel, stainless steel, a laminate of both metals, or ceramic.
You can check out the list of chef knives under $100 from MyKitchenCapers.com
7. Wooden Spoon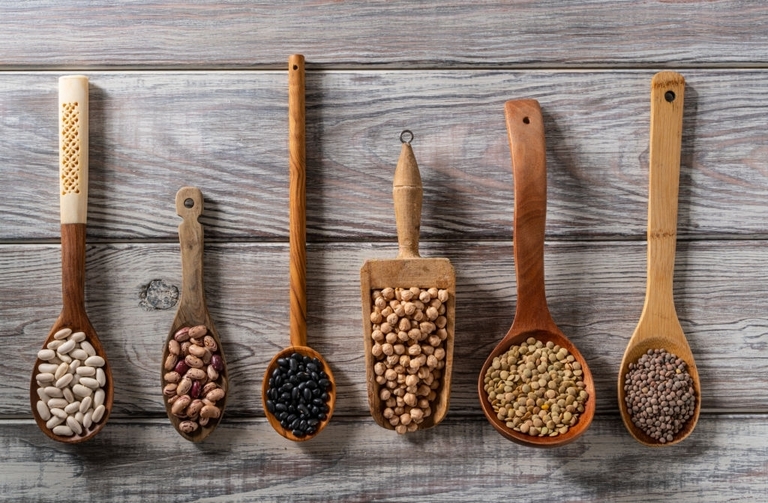 The wooden spoon is commonly used these days for various reasons.
Firstly, it is stronger than other types of spoons, such as a plastic spoon, so you can easily stir thick things without breaking. Secondly, it is soft, which can be understood that it will not scratch your pots or pans. Thirdly, it has a high heat tolerance, thus it will not melt while cooking at high temperature.
Last but not least, as a wooden spoon is made of wood, it appears to be more aesthetically pleasing to your eyes. Furthermore, if you tend to feel annoyed when hearing the sound of a metal spoon while cooking, we suggest you switch to a wooden spoon because the noise is more subtle.
8. Wood Cutting Board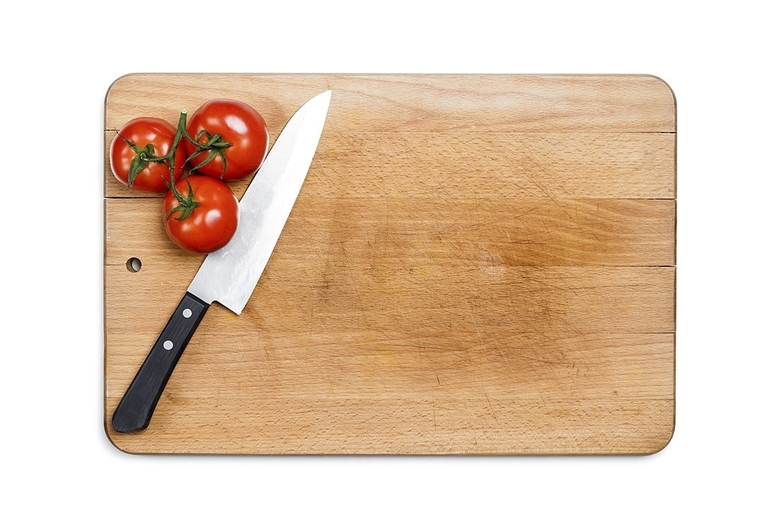 A cutting board is a durable board that is used to place ingredients on for cutting. It helps to prevent your ingredients from sliding all over the place. Acknowledging that there are many different types of cutting boards, we want to help you choose one by recommending a wood cutting board.
There are a lot of benefits that come with a wood cutting board:
It lasts for a really long time.

It rarely does damage to your knife.

Wood is able to absorb bacteria, trap it, and then kill it.

Wood makes the cutting board look better than other materials.
Before buying a cutting board, make sure you check the size of your sink as you do not want your newly bought cutting board to not fit in the sink for washing.
9. Measuring Cups and Spoons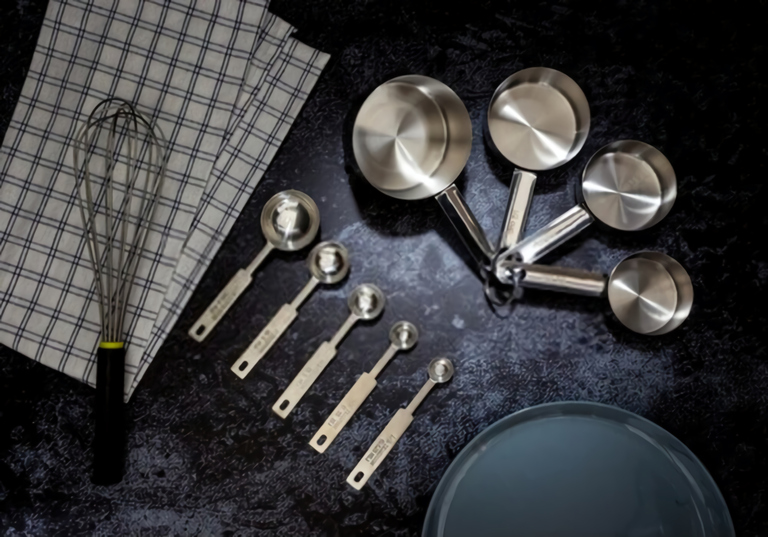 If you are starting to get into baking, you have to grab measuring cups and spoons for your kitchen. Without an exact measurement, you might fail baking your favorite cake. These kitchen tools generally come in set with different sizes, so you do not have to look for each size one by one.
Their materials vary, but we recommend you to get the metal ones since they can last longer and are easier to clean. Besides, you should also get a liquid measuring cup if possible to make your baking process done in an even faster time.
10. Vegetable Peeler
If you have ever experienced a hard time trying to peel vegetables, it's time you should invest in a vegetable peeler. A peeler consists of a metal blade with a slot with a sharp edge attached to a handle. One side of a slot is sharpened, while the other side prevents the blade from cutting too far into the vegetables.
Peelers have a variety of designs:
Swivel peeler: This is one of the most popular types. It has a narrow, sharp, and long blade that swivels side by side.

Y peeler: It is named after its Y-shaped frame. This design offers a wider handle, which makes peeling easier and more comfortable.

Serrated peeler: It features a sharp and serrated blade, which is suitable to peel slippery-skin fruits and softer vegetables such as tomatoes and peaches.

Julienne peeler: This one will help you to create fine shreds of vegetables such as carrots and zucchini.

Lancashire peeler: You may think this type is a swivel peeler at the first sign, but it has a blade that stays in place.
Conclusion
Like two sides of a coin, everything has its own advantages and disadvantages. Those tools listed above are what we found to be helpful for a lot of people. However, it does not entirely mean that you must get them because different people have different needs and preferences. Therefore, before buying anything, make sure you have considered carefully since you definitely do not want to waste it. Final words, we hope that you will find this list informative and be able to use it for references.