The benefit of an RV trip is that it provides the comfort of home during your outdoor adventure. It is a great experience to travel to some exotic or mesmerizing sights with your family and friends. You will have all the things and comforts you will need in your motorhome.
For an RV trip, you need to pack well and make sure that all the necessary things are considered; there are few essential things you can't leave without. If you go on a vacation, then toiletries and clothes come to mind when packing, but for an RV, it is different.
You will need to pack food, torches, supplies, gear, and many more things. When you start packing, it will feel like you are moving into a new small home.
The trip on wheels will involve planning and packing, and the packing might get overwhelming. To help you with that, we have listed down a list of essentials that you will need during your trip.
A Generator
There are two options to choose from, either you can go to a camping park or venture out on your own. The latter is known as boondocking; this type of camping will lack the things they provide on the campsite. A campsite will have electrical outlets to power the appliances of your RV, but when you boondock, you don't have that luxury.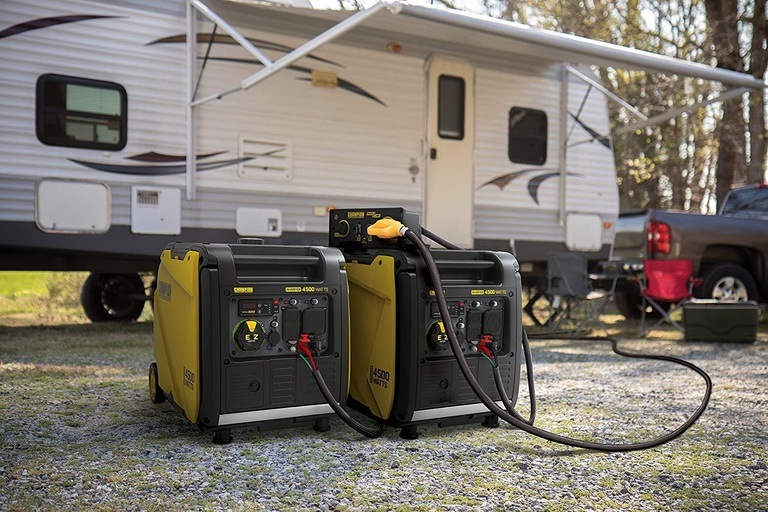 So, to fulfill your power needs, you will need a portable generator for your RV. A generator will power all the appliances of your RV provided that it is of the right size; make sure that you choose the generator which can provide enough power for all your appliances and electronics inside.
Moreover, a generator should be fuel-efficient and lightweight; after all, you are in a wilderness, and there is so much fuel that you can bring along. It will be advisable to use it economically. If you don't need much power, then you can bring along the solar generator; with it coming along, the need to carry the fuel will be gone.
Electronics
You won't but still, don't forget the electronics. You can bring a smartphone, laptop, and tablet. They will keep you entertained and occupied. You might not need a tablet, but you will need a laptop to work; a laptop can connect you with your distant friends and families, and it can act as a storage for your photos and can turn into a box office when you want to watch a movie.
When packing your electronics, chargers, and adapters are in order, don't forget them; without them, your electronics will last only a few hours. You can also bring the digital multimeters and digital line meter to test the wiring. The multimeter can monitor the voltage and frequency of the generator.
RV Toolbox
All mechanical things are prone to breakdown, and RV is no different; you should be able to handle any kind of problem in the system when you are out. If you are in the middle of nowhere and your vehicle breaks down then there will be no help for miles; you will be on your own. So, to repair the machine, bring along all the necessary tools in your toolbox.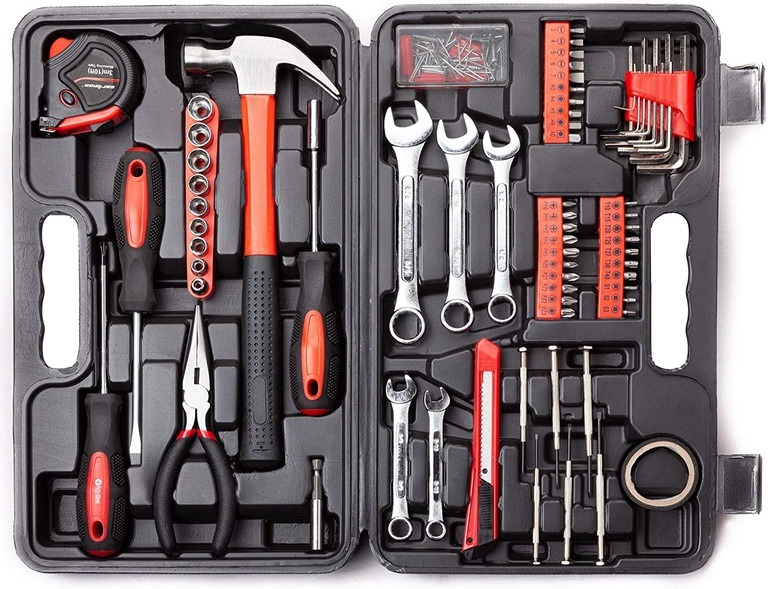 The RV toolbox will have most of the things you will need for a car. You should have jumper cables, a screwdriver, tire pressure gauge, lithium jump starter, duct tape, Wi-Fi booster, and other things. You can also add wheel chocks, sealant, roof patches to your list.
Bandages, Antiseptics, and The Likes
By just exploring your surroundings, you might get simple bruises. A simple bruise or cut, if left untreated then it can easily get infected, so it will need to be cleaned and bandaged. Also, extended hiking may give you blisters, which will also need to be bandaged. To do that, you must have a first aid kit with you. A first aid kit is important; if anyone gets hurt, you will have essential supplies to treat them.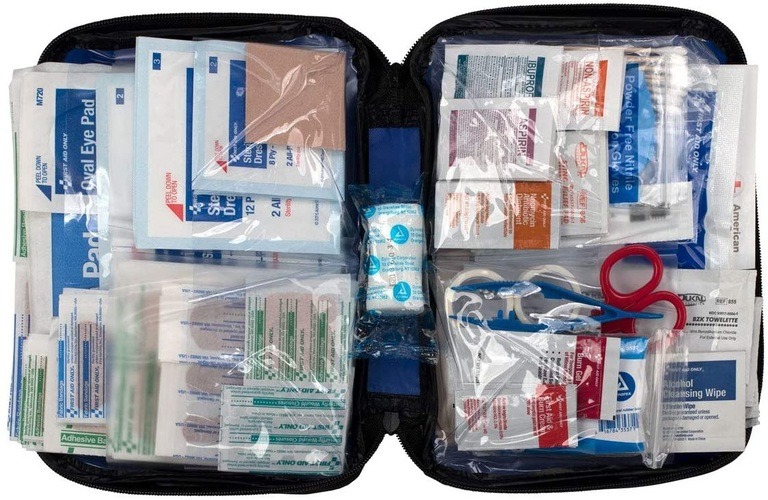 Also, remember that first aid kits are good for simple injuries only; for more fatal injuries, they will be helpful as long as you reach the nearest hospital. A first aid kit should have bandages, antiseptics, scissors, cold and flu medicines, allergy medication, painkillers, treatments for bug bites, gloves, antibiotic cream, etc.
Fire Protection
You never know when there will be fire; you are in a forest, which will have dry leaves everywhere, so it is good to be prepared. If you have a fire extinguisher, you will be able to manage it easily before it spreads any further. So, always have a fire extinguisher inside your motorhome.
There are also incidents of fire inside the motorhome. You can quickly take it out before any harm is done to your electronics and essential things. It will ensure the safety of you and your loved ones. We also suggest that you bring along more than one fire extinguisher.
Multi-Function Tool
This might turn out to be the most useful tool that you will bring with you, and it will have a plethora of applications. It is not just a simple knife with two sides, and several tools are squeezed inside this small multi-tool.
It will come in very handy when doing small tasks. The tool will save you the trouble of carrying many tools, and you will have access to all of them from this little thing; this also saves you space.
This multi-tool can function as pliers, tweezers, screwdriver, bottle opener, wrench, magnifying glass, and many more simple tools. It is a must-have survival tool that makes your life easier when you are in the wild.
Food and Kitchen Essentials
Food is essential, and you can take what you typically eat but pack more non-perishable and canned food. Now, when it comes to cooking, most people try to bring as little kitchenware as possible as they are cumbersome, breakable, and heavy to manage.
So, you should do the same, only take what's most important, keep it to a bare minimum. You can bring the pots and pans, coffee maker, dishes and spoons, bowls, and some things which you might need for kids.
These are some of the essentials that you should have during your trip; not all of them need to be purchased every time. Many of them can be stored inside an RV. So for your next trip, you just need to pack a few things, and you will be ready to go in no time.