According to the UCR Program of the FBI, more than two million burglaries have been conducted annually. Household burglaries are a part of these remarkable figures. Victims of burglaries are estimated to have lost more than 3.4 billion dollars in property. Though the rates decrease each year, it does not mean you won't face the risk of getting stolen. Other crimes conducted in the USA relating to home security make a significant number in the crime reports.
From such events, we have been innovating and creating products to help prevent safety risks. Security lights are on the list. This article is all about the steps to install outdoor security and the benefits of the item.
1. What is a security light and how to install it?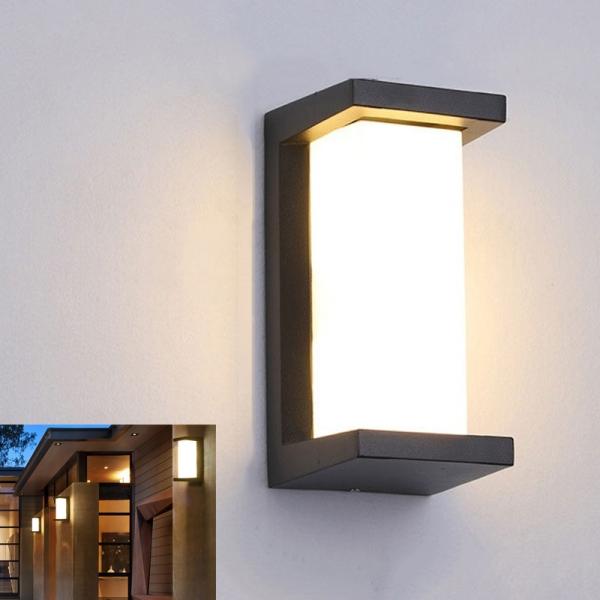 Security lights in general contribute as an integral element in your security system. They will be responsible for keeping things happening outside the house visible at night. They also have certain standards to follow, including the weatherproof features because they will expose directly to the sun, rain, and snow.
These days, manufacturers equip security lights with LED bulks due to their durability and energy efficiency. The innovations of security lights also relate to automatic motion detection to reduce the chance of intruders. Some products have a timer for energy saving. Security lights are available now on many e-commerce websites and offline stores. Their price fluctuates between 30 - 80 dollars.
Where should I put my security lights?
"Where should I put my security lights" is probably one of the most asked questions. You are free to place the security lights anywhere you wish. They can be on the wall or at the front door. The only regulation you can refer to in this section is that your security lights should be 10 to 20 feet from each other. 10 to 20 feet is the most effective distance because it ensures equal light to the surrounding.
Steps to install security lights for your home
Pick the location: when installing security lights, location is the primary factor to determine. It must be near a power source so that your lights can operate. Before putting the lights on, remember to shut off the power source for the sake of safety first.
In this step, you may want to remove the current lights. You should remove the bulk first to avoid breaking it, then disconnect the wire. To ensure it has been turned off, double-check the circuit tester. You have completed the second step at this point.
Now we are going to assemble the new security lights. You'll need to drill a hole of approximately a depth of 1.4 inches, then run the wire from the inside location to the outdoor one. Another note to remember is that the surface to locate your security lights must be even. We would feed the wires through a rubber gasket to prevent any exposure to moisture.
After assembling the new security lights, connect the power source to them through a power drill and screw. We nearly reached the end of this installation process.
The last task is replacing the old outlet with a new one to control the outside security lights. At this point, you can turn on the power supply and test the security lights installed.
2. Identifying types of outdoor security lights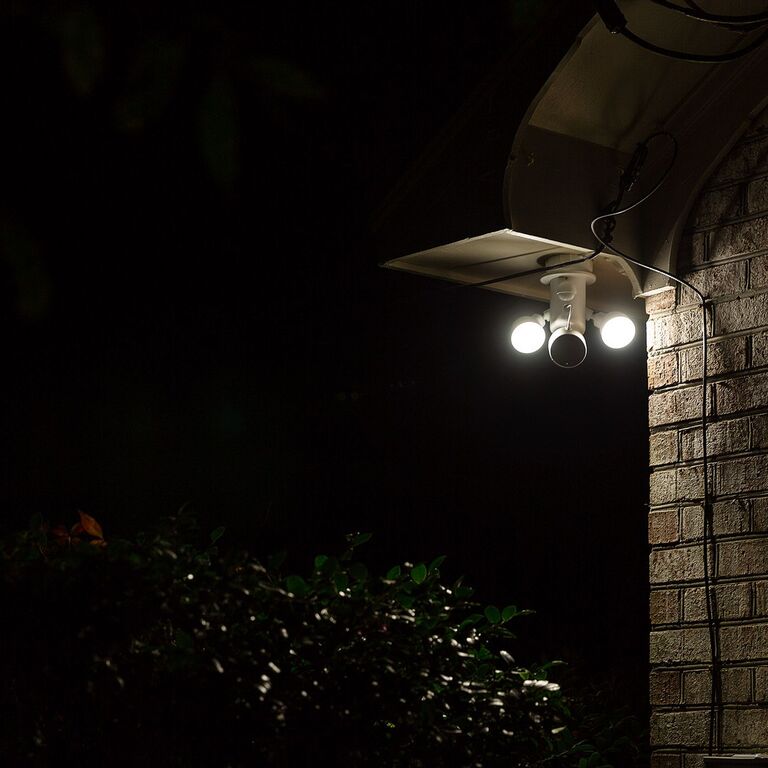 Though coming in one name, security lights are divided into different types due to their features and shapes. Here are a few common types that are available on the internet.
Floodlights: this is the most massive light source when it comes to security lights. Floodlights are normally used for not only households but other locations because of the significant lighting. Places you can see floodlights are construction fields, buildings and monuments, and ports.
Landscape lights: these items are to light the path. They are often located on the ground. The lighting source of the landscape lights is not as remarkable as the floodlights. Nonetheless, they are efficient for home or street use.
Roadway luminaires: roadway luminaires are another popular security light type. They are often applied when shoppers want to make their homes identical as they light up the location.
Surface-mounted luminaires: these lights, apart from their function as security lights, work as external decorations for your house.
Post luminaries: the last group - post luminaries can be counted as home external decorations as they are used to light up the way and welcome your guests.
3. Benefits of outdoor security lights
In this part, we will discuss further the benefits of security lights. When moving to a new place, you should evaluate the level of safety in the area, then plan a security system to reduce the potential risks.
Improving the level of security for your house
Security lights were invented as an integral part of your security system. Many lights are specially designed to prevent intruders, both humans, and animals. Security lights these days have been equipped with a timer, a motion detector, and an automatic switching mechanism. Some lights are designed to prevent animals from coming near your house. This function becomes more vital as it helps house owners avoid burglaries. When a security light system is installed, a thief takes more time to identify his target and method to conduct. The greater the barrier for them, the less likely a burglary will take place.
Preventing the outside accidents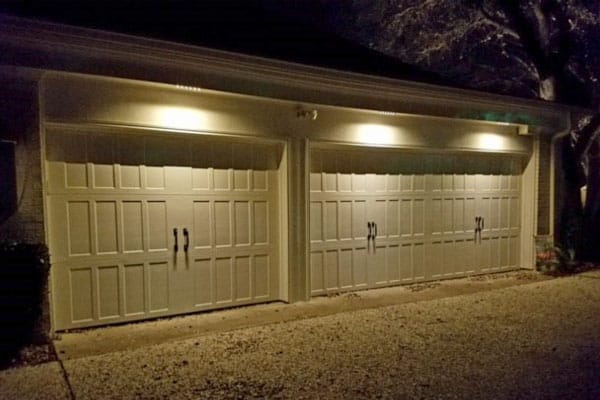 The second benefit of outdoor security lights is that they can reduce accident rates. This applies to both homeowners and passengers on the road. It is always better for vision when there is light. Riding in the dark has been proven to cause a significant rate of incidents. People also try to find ways to make themselves more identical on the road at night. When installing outdoor security lights, you have helped others and yourself to avoid incidents at night.
Adding values to your house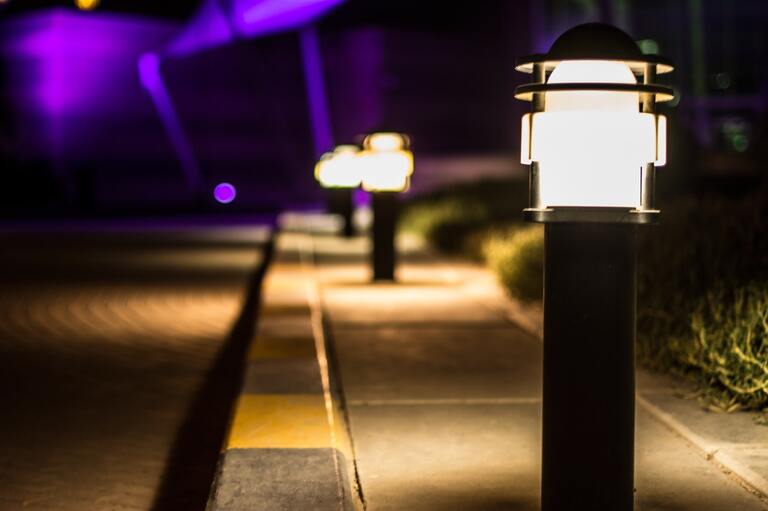 Security lights add value to your house in numerous ways. In terms of monetary value, real estate is always a big property for anyone. It is an investment. Investment means you must make its value increase annually. That's a smart investment. Adding useful details can help increase the monetary value. This would come in handy when you want to sell your house to purchase another later.
For legal sake, when adding security lights, you will lower the insurance premium since your house now is at a lower risk level. As your house faces less risk of being broken in or vandalized, insurance providers will take a check and are likely to lower the formal insurance fees.
In terms of other purposes, security lights make your living space more open. They will be a great light source for leisure times at night. You can also hold events, including a BBQ party in your backyard or garden without concern about lighting.
Giving an additional sense of safe zone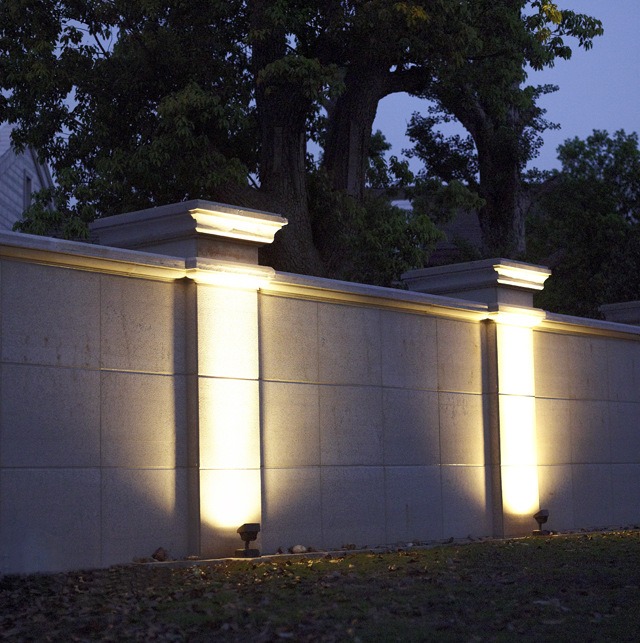 Last but not least, security lights give us a sense of safety when stepping outside at night. A dark environment often gives a feeling of anxiety to many people. This is because they don't know what can come out suddenly from the dark. Criminals also approach us more easily when in the dark. A space with sufficient light will certainly keep humans feel safe, and it allows you to see everything in the surrounding.
Conclusion
Installing security lights is vital to any house in our perspective. It adds more safety guarantees and a sense of comfort when you are outside. Installing an outdoor security light not only helps you to avoid accidents but also others. Hence, why not purchase these useful and practical items?