You've been dreaming of your perfect kitchen for years. Now it's finally time to make that dream a reality! But before you can get started, there are a few things you need to consider: what style do you want? What features should the kitchen have? How much space is available in your home and how will this affect design decisions? These considerations and more will help guide you towards designing the perfect kitchen for your lifestyle.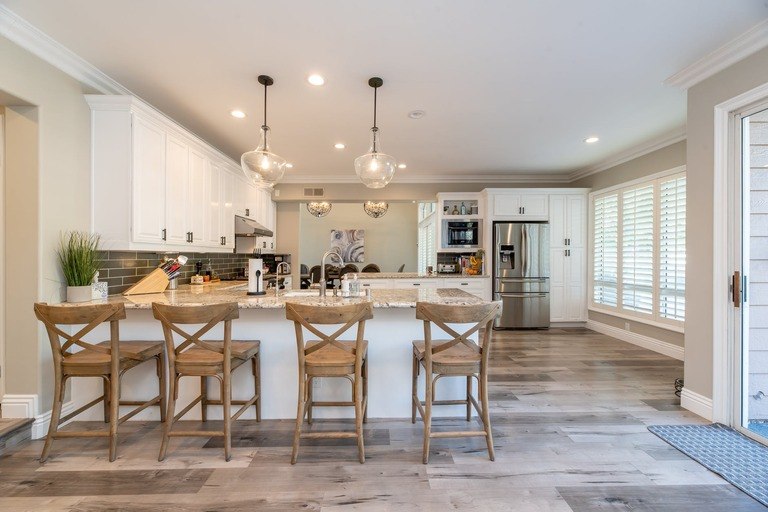 Designing a kitchen can be intimidating, but the process doesn't have to be hard.
What Style?
You may have started by envisioning a certain style of kitchen, but what are the different styles available?
Kitchens can generally be categorized into four different main styles: Modern, Traditional, Transitional, and Country.
Modern Kitchen Design
A modern kitchen is sleek, simple and clean-lined. Often using white or light colored cabinets, along with stainless steel appliances and stylish material like linen tablecloths. Modern kitchens often have a crisp feel. This design is very popular in urban homes where space is limited because it makes the most of every inch of available space.
Traditional Kitchen Design
A traditional kitchen reflects the styles of the past, but can include new-age materials and appliances. Traditional kitchens are popular in homes with classic architectural styles, but can also suit contemporary homes as well. Classic elements of traditional kitchens include dark wood cabinets, butcher block countertops and tile backsplash.
Transitional Style Kitchen Design
This style uses design elements from both modern and traditional looks to create an updated kitchen that is casual and livable. This style often uses cabinets and materials that are similar to traditional kitchens, but also features modern touches such as sleek appliances and clean lines.
Country Kitchen Design
Often referred to as "shabby chic" or "cottage design" country design is a popular choice for homes with rustic architectural elements. Characterized by rustic materials like distressed wood, metal or even stone, country kitchen designs are laid-back and inviting.
Features to Consider
Once you've decided on the style of your new kitchen, it's time to start thinking about features.
What features would make this kitchen perfect for yourself and your family? If there are any must-haves that you've always wanted in a kitchen, now is the time to add them to your design.
Think about:
pantry space
undermount sinks
convenience items like a garbage disposal and kitchen island
functional storage space for everyday items
Of course, not every essential or luxury can fit into your new kitchen. That's why it's important to take measurements and think about what you really need before deciding on any specific feature.
How Much Space is Available?
After you've decided on the style, features and appliances of your kitchen, it's time to start designing.
Ensure that each design choice fits into your space before moving forward. Think about what elements of a design will work in a smaller space and which ones won't.
In general, open floor plans with high ceilings make the best use of space, but you can also add appliances or cabinets to customize your space within certain limits.
Designing a kitchen isn't always easy, but there are some things you can do to make the process a little easier.
First, it's important to shop for ideas and inspiration. Browse kitchen pictures online or go to a showroom of appliances and materials that may inspire your design.
Second, think about your lifestyle and the features that would best suit your needs. If you have a large family, you may want to incorporate a large cooking center like an island. If your family tends to eat out a lot, then you'll want to consider adding more storage or pantry space. Also, make sure your kitchen has enough ventilation, you would want to get rid of nasty cooking smells circulating inside your kitchen.
Third, relax and remember that this is just the first step in the design process! Once everything has been decided and planned out, it's time to discuss your design with a professional.
Designing your dream kitchen can be a daunting task, but it's definitely doable if you take things one step at a time. Start by thinking about what style of kitchen you want, then consider the features that are important to you. Once you have an idea of what you want, make sure the design will fit into the space you have available. After that, it's time to get creative and add your own personal touches. Relax and enjoy the process – designing your perfect kitchen is definitely worth all the effort!