Scientists prove that letting kids play outdoor activities helps them be more intelligent and creative. Moreover, it improves kids' health and social-skill more than indoor activities like playing smartphones, surfing social networks,…
So, how long haven't you been playing outdoor activities with your kid? Many parents don't have time to take their kids to the park, such as a theme park, public park,...But, it does not take too much time if you know about this activity, right in your garden! Yes, getting your kid into the garden is the best choice, not too far and not too crowded. Gardening is a popular activity for all ages. It helps your kid get outside and a great way to teach them how to cultivate and respect their food as a vegetable.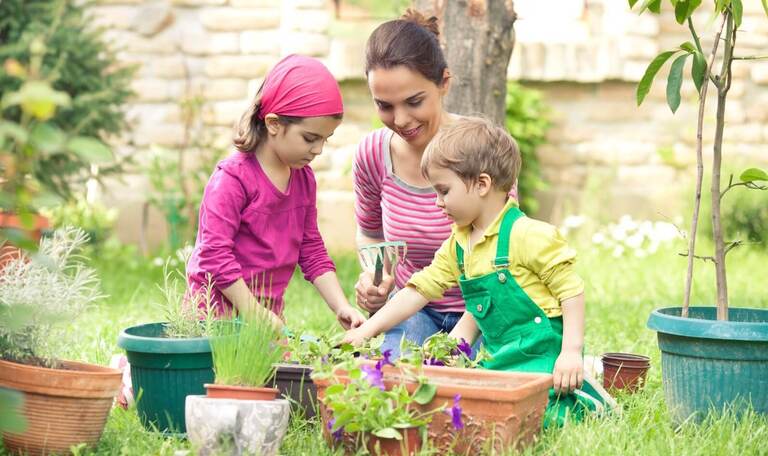 There are tons of benefits of gardening for Children. Let's analyze some of these benefits and get more information about them.
1. Stayed Healthy and Reduce Stress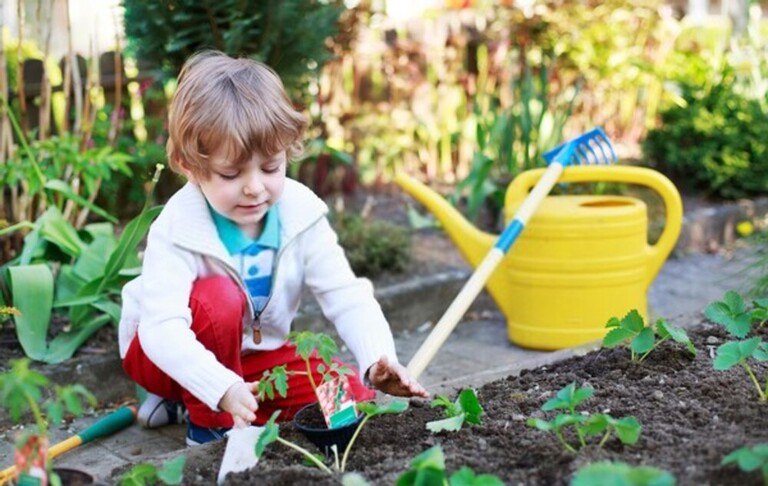 Nowadays kids spend lots of their time in school or indoor activities. As the parents, it isn't easy to encourage them to go outside and do some physical activities instead. But, gardening should be the best solution that can handle these problems, motivate the kid from their game on smartphone or TV.
It's right in your yard and convenient for both children and parents to take care. Cultivate is the whole-body workout and absorb Vitamin D from the sunlight, help them burn-out energy, relieve stress, and improve their bone growth as well. Sometimes, letting them dig in the soil and get dirty isn't too bad. This activity is a great way to build up disease resistance and solve many health issues.
2. Encourage to eat healthier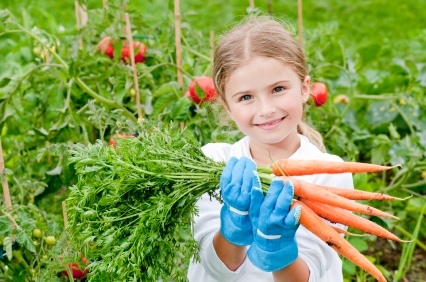 The fact that most kids don't like to eat veggies. They always refuse and push veggies away from their plates. Maybe because it tastes terrible? This becomes every parent's problem, because in the vegetable, there are thousands of healthy vitamins, supporting the kid's body. Parents are worried about it and don't know how to motivate their kids to eat these vegetables. Gardening should be one of the high-recommend solutions! Only when the kid grows their own vegetables, they could love it and push-up their interest in eating more veggies that they used to hate before. This is a great way to nourish their love with veggies, motivate them to eat healthier and give them the lesson: Cultivate isn't an easy job that should be respected, and never waste food.
3. Best way to learn new things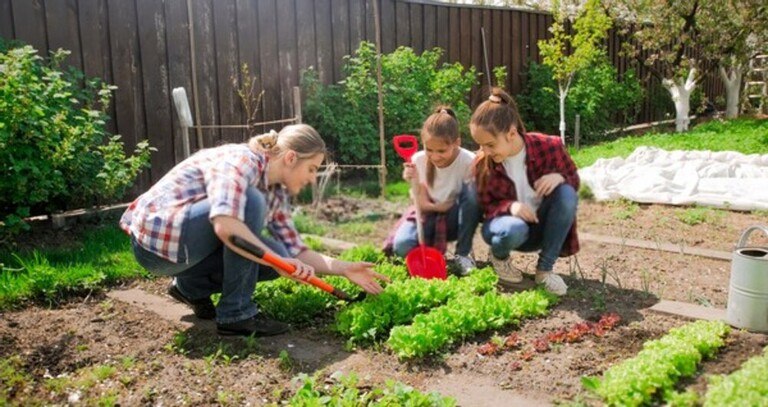 Kids are always curious about things around them. And gardening is an enriching way to teach them vocabulary and new things in gardening techniques, especially in subjects such as science, math, botany, etc. That should be counting seeds/leaves, dig and plant, name of flowers, why are the leaves green,…
They will ask you lots of questions. Please don't be impatient and teach them everything they want to know. This means they develop their creativity, want to learn and are ready to listen to you. Furthermore, parents can use gardening as a hobby for a family in free time. It is a chance for family to gather, to play, to work together. Parents and kids can join in the conversation and create a closer family connecting bond.
4. Raise the kid's love to nature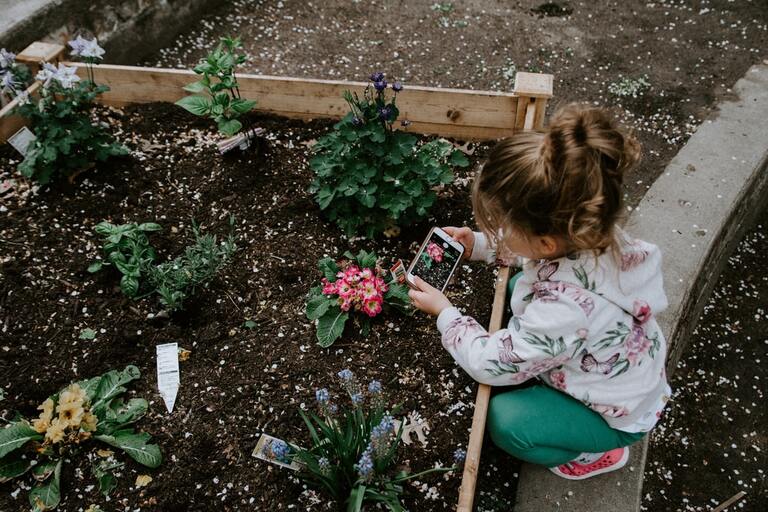 One more advance of gardening is to teach children how to love our environment and planet, which is quite significant. When kids mostly spent their time in the garden to grow trees and plants,…it absolutely nourishes their response to nature in a sort of major way. They respect and become a green thinking person. It basically is a pretty good habit, the kids know to preserve the environment, specifically know to protect our planet and devoid trash – one of the severe problems these days.
5. Responsible and Patience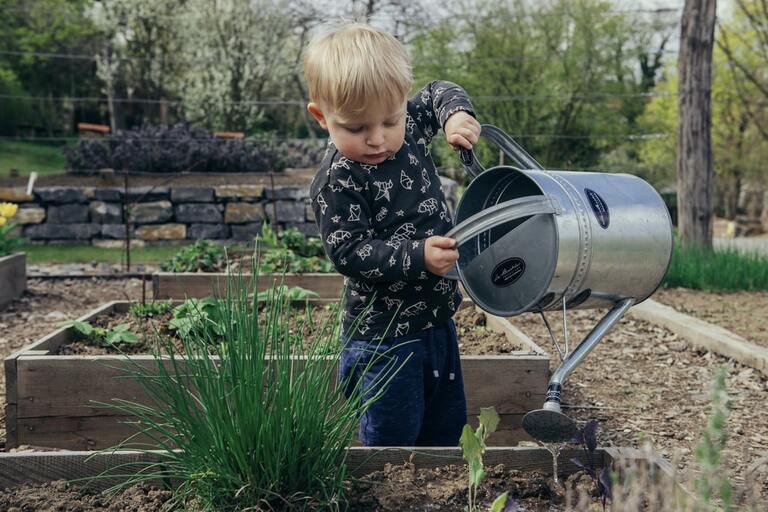 Gardening is not an easy task, especially for a kid. It mainly needs lots of attention to grow-up, which requires kids to practice their response and patience. Parents can join hands to help them, but just in needed cases and don't interfere too much. Most of the time, let your kids have their own space and take care of the task, from the beginning to the complete process. Teach them don't worry about the mistake.
Parents support and help them create the planting hobby day by day, step by step. Maybe parents basically can lead kids to the first step of how to cultivate, tell them to prepare and follow the checklist carefully, it can be a daily checklist, weekly checklist or monthly ones. It teaches children to be patient, everything needs to take time and effort to get the rewards.
6. Develop soft skill and motor skill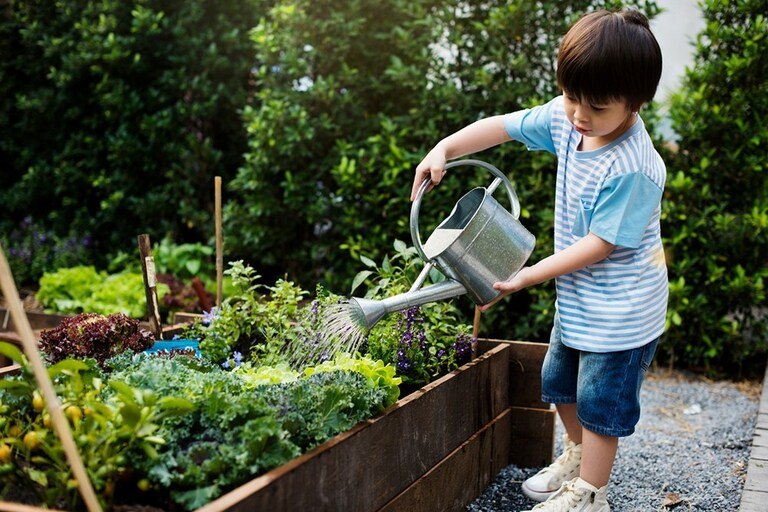 Gardening is not only gardening. To do this task requires many skills such as teamwork if kid cooperates with parents or friends, math skill, Botanics skill,…Moreover, gardening required kid to practice and hone their skill like choose seeds, dig holes in the garden, planting seeds, watering, fertilizing, pick-up leaves in gentle…Kid will move and work around your garden, improve concentration, enhance memory and healthy routine in their life. Besides, this is also a way to teach them to develop creative skills with decorating their own garden. Let them buy things to decor and organize their plants, trees follow their favorite concepts,…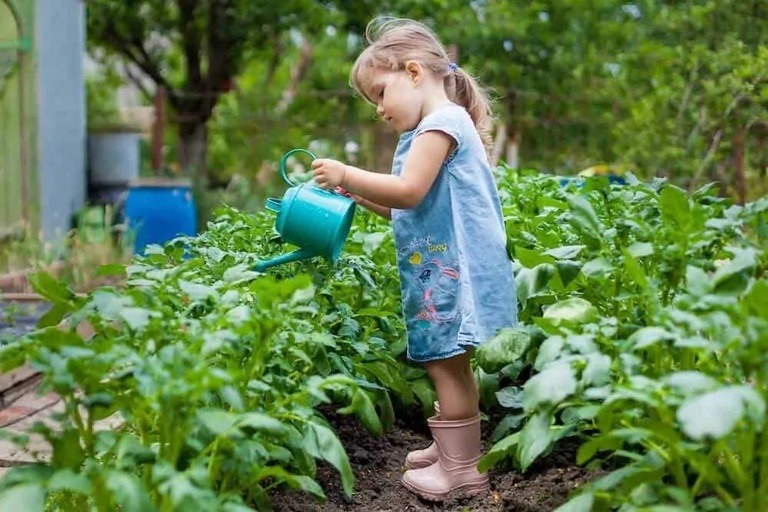 Conclusion
Playing outdoors has many advances, but not all parents have time to take kids to the park. If now you are in this situation, this article will be helpful to you! Gardening is a great family activity choice that parents should let their kids try at least one in their childhood. It is not only fun but also has thousands of benefits like we analyze above. If you worry that your kid spent too much time on TV, smartphone or laptop, let them to the garden and join in cultivation.